West's Scholastic Bowl Team Ends Season with Conference Competition Win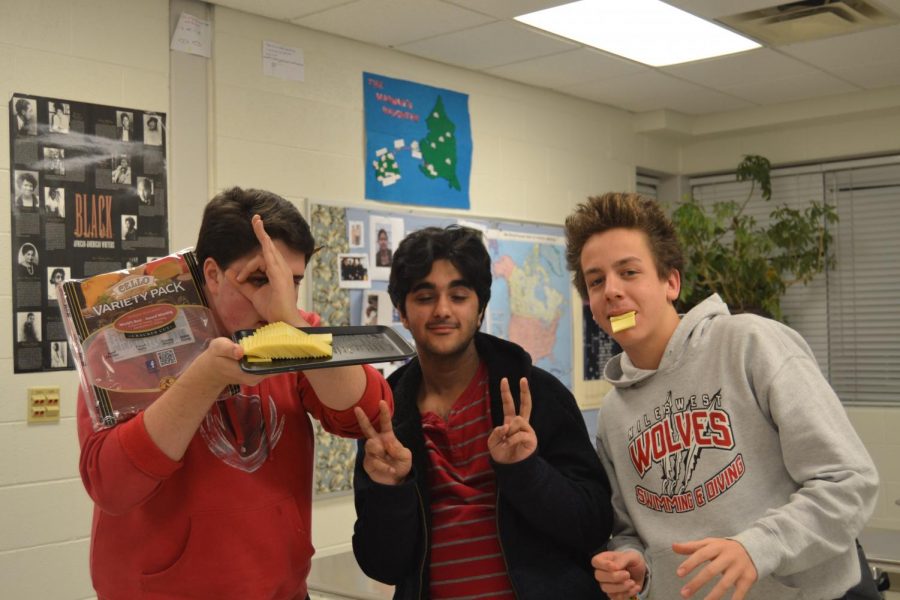 On Thursday, March 1, Niles West's JV and varsity Scholastic Bowl teams competed in their final matches of the season at the CSL conference tournament, which was held at Maine West High School. While the varsity team suffered a close loss early in the single-elimination tournament, the JV team advanced to the final round and took home a second place win.
Scholastic Bowl is a competitive, trivia-based competition with questions in categories ranging from literature and mathematics to fine arts and the beloved 'miscellaneous' category. JV teams are required to be made up of freshmen and sophomores, while varsity must be juniors and seniors. Although five team members are typically in the game at any one time, the JV team accomplished their amazing feat with just four: sophomores Daniel Cudzich, Zachary Werth, and Balaji Venkat and freshman Kevin Repta.
The end of the season marks social studies teacher and varsity coach Matthew Wiemer's first year with the team, as the position was previously held by former West science teacher Howard Swider, who retired last year. Social studies teacher Joseph Edwards and English teacher Lia Sosa coached the JV team this season. All of the coaches are happy about the season as a whole, and especially about the JV team's performance at the conference tournament.
"We are really happy with how the JV team finished this year. Second place is no easy task," he said. "Varsity did better than in years past as well and lost several close matches this year (including tonight at Conference) by only one question."
Among the teams' favorite traditions is the use of various go-to answers when a particularly obscure question comes up. While 'Henry Clay' and 'Botticelli' have been highlights of this season, a new phrase reigned supreme yesterday as Cudzich answered the final question with a confused "Guh-HUH?"
Cudzich was in a slight daze after the competition and could hardly contain himself as he described his feelings about the team's performance.
"It was honestly a miraculous win and such a great season, and I can't thank my teammates enough for all of the help with geography, not to mention everything else."
For senior Michael Rohn, the end of the season and his Scholastic Bowl career is bittersweet.
"Scholastic Bowl was by far my favorite thing about coming to school, and I'm so sad that it has to be over," he said. "But I think the team is in more than good hands, and they're going to be extremely capable in the future."
Wiemer is in agreement with Rohn's last statement. He also believes the team has a lot in store ahead, especially since sophomores Cudzich, Werth, and Venkat will be on the varsity team next year.
"I am very hopeful for how varsity will perform next year, with strong returning juniors and terrific sophomores who will move up to varsity," he said.
Aside from their talents in the competition, the strongest asset of this year's entire Scholastic Bowl team is the sense of humor and the strong relationship that all of the team members share. According to Wiemer, the members truly make the team.
"The students in this club are amazing and make it so enjoyable to coach. We have tremendous fun and the students constantly make me laugh," Wiemer said. "It was a wonderful first year for me, and I can't wait for next year."
Though the competition season for Scholastic Bowl has come to an end, the team plans to continue meeting on Tuesdays as they always have. While they'll be practicing for the annual match they host against West Scholastic Bowl alumni in April, most members will continue to attend the weekly meetings for the sheer love of the game. After all, there's nothing like the rush you get from some good trivia, food, and friends.