The Secret Singer: Carl Alexander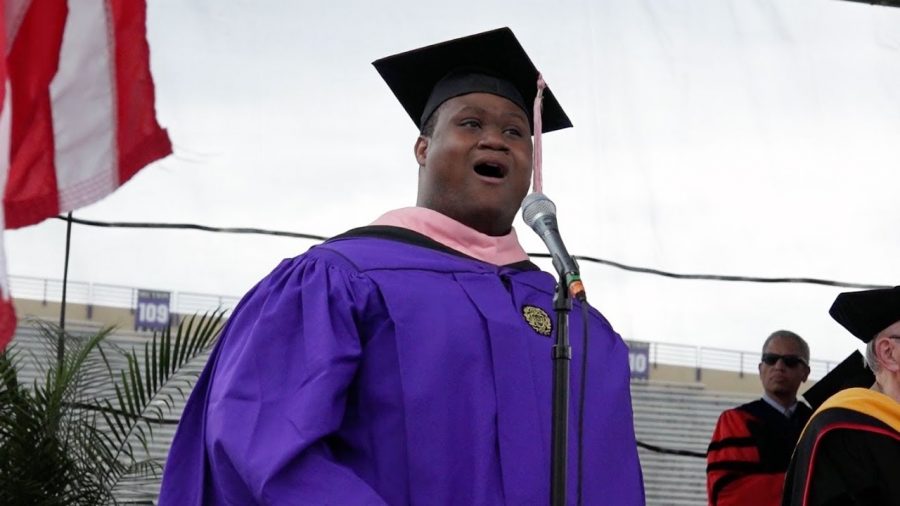 Known across Niles West as "the guy who plays music in the hallway," new Physical Welfare office secretary Carl Alexander has a bigger history in music than most students know. He received his master's degree in Voice from Northwestern University in 2017, and he dreams of becoming a professional opera singer.
While he was growing up, Alexander's family didn't want him to share his talents with the rest of the world and were reluctant to allow him to start receiving professional singing lessons.
"I've always loved to sing, even though I was not allowed to growing up. My voice was so high that my family didn't want to hear me sing very often, so I was told to be quiet. I was not allowed to participate in choirs at church or sing at school," Alexander said. "I started singing my senior year of high school and, to my surprise, continued singing in college. With my strange history of singing, I have only been singing professionally for six years."
Alexander devised ways to keep music in his life while hiding his passion from his parents.
"With most things that you truly cherish, I had to sneak and hide to sing. I was your resident shower singer, but you could hear me tackling your favorite power ballad from two houses down. I would write down song lyrics in a black and white composition notebook in hopes that my mother wouldn't read it, thinking it was my school work. I even downloaded recording programs and random backtracks offline so I could pretend to be a recording artist, perfecting their next single for the radio," Alexander said. "No matter how I was feeling or what I was doing, a song came to my mind, and I would hum the tune to my heart's content."
Finding the best and making fun out of any situation is something Alexander is great at doing– his cheerful energy and disposition make students happier as well.
"Why would you do anything in life if you didn't enjoy it? The Physical Welfare department is all about having a good time while making strides to living a long, full, healthy life. We love to communicate and connect with students and faculty we see during passing periods because everyone would seem so glum at the end of a busy week," Alexander said. "In our office, we would normally enjoy a fun time of music and conversation, preparing for the weekend. We just translated that environment to the hallway, by playing fun music and encouraging everyone who passes by to dance."
Before starting in the Physical Welfare office, Alexander was assisting Choral Director Matthew Hunter and occasionally helping out with the students.
"Working with Mr. Hunter and the choirs here at Niles West High School was an incredible privilege. I've never seen choirs so apt to learning new ways to sing and even more ready to share both uplifting and thought-provoking messages with their community," Alexander said. "I am so excited to see this choir grow over the years under Mr. Hunter's leadership and the new heights that they will reach as they find more ways to express themselves."
Senior Anthony Saldaña has had the opportunity to take private voice lessons with Alexander, and he believes he has been helping tremendously in such a short period of time.
"My time working with Mr. Alexander has been short, yet insightful. The amount I have learned from him in the few weeks we have had lessons is incredible. He's different from other teachers because he is very straight up with you. He tells it like it is, which is actually very helpful," Saldaña said. "He's also just a very fun person in general. He loves what he does, and it's very evident in the way he cares for his students and tries his hardest to improve our talents to their full potential."
Junior Leah Nano worked with Alexander in the choir as well as working with her a cappella group, and she appreciates the advice he has given her.
"He's really easy to talk to, and he is super talented," Nano said. "Mr. Alexander knows exactly what to say to make someone understand what he is trying to help you accomplish."
Alexander's hope for the future is to become a world famous opera singer, and he has already done some work in the music industry.
"I have had many memorable moments as a singer and even more that I cherish. My greatest achievement would have to be my feature on Spike Lee's "Red Hook Summer" as a member of the Morehouse College Glee Club. The experience of being in a professional studio in New York and working on the music of Spike Lee's father was an incredibly interesting experience," Alexander said. "My dream job would be to have an international operatic singing career. I've spent a good six years perfecting my craft, and I would like to share my work with the world."