Niles West Girls Softball Preview 2018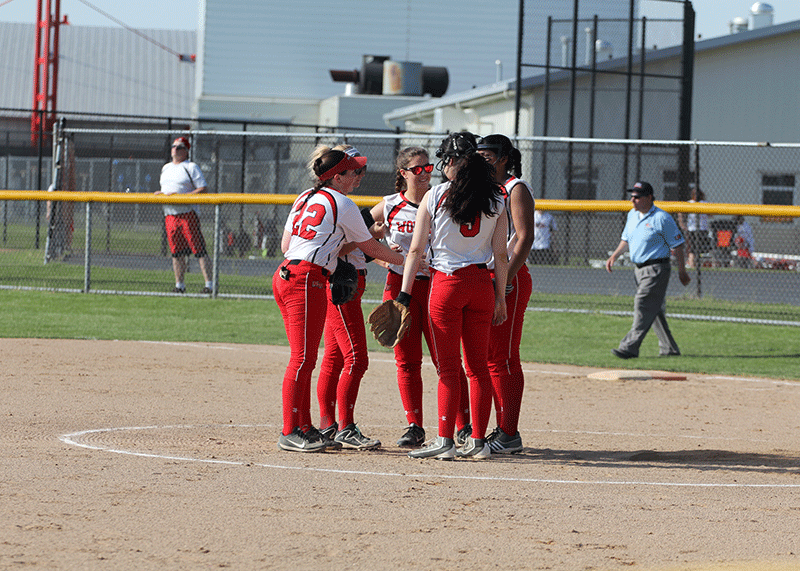 The Niles West girls varsity softball team is as enthusiastic as ever about their upcoming season. With a new head coach and dedicated players, they are hopeful for what this year has in store. Coaches Chrissy Rosin and Kelly Kleppin are looking forward to helping the players and overall improving their skill development.
With her first year as head coach, Rosin is excited to see the success this season brings them.
"I have been a coach at Niles West for six years. This will be my first year as head coach. I enjoy coaching softball because it's a challenging but rewarding sport. The main goal I have for our team this season is to compete. We are a young, energetic team, and I have been very impressed with their work ethic so far. I am very optimistic that this team will grow and be successful this season," Rosin said.
Rosin is hopeful that she can teach the girls a lot of important life assets on and off the field.
"I am able to teach girls about the game of softball and characteristics, such as leadership, resilience, responsibility, communication, teamwork, through the game of softball.  I hope that I impact each and every player in a positive way. I hope that I can show them that they are all strong women and that they can reach their dreams no matter who they are with a little hard work and dedication," Rosin said.
Playing a sport for many years teaches an athlete many important characteristics that they can take with them for the rest of their life.
"I have grown up playing softball; I have played travel for eight years, which is a lot of commitment. Sticking with this sport for so long has made me realize how much I love being a part of a team and grow not only as a player but also as a person. Softball means a lot to me because I feel really comfortable on the field. My dedication to softball makes me extremely proud of myself and everything I have accomplished," captain and senior Callieh Mohr said.
Playing a sport has instilled confidence and a sense of belonging in players such as junior Grace Bencivenga.
"Being on softball and being on a team means a lot to me because I'm able to do the sport I love with a great group of girls. Playing softball has affected me as a player and friend because I have learned to be more confident in myself and more supportive of others," Bencivenga said.
With the seniors leaving next year, the juniors know it is their time to step up and take over.
"My goal this year is to experiment playing more positions, and for the team, I hope to have a successful season and do well in conference standings. Next year, since I'll be a senior, I would hope to be a leader for our team and have people look up to me" Bencivenga said.
Mohr is very focused and motivated going into her final season at West, and hopes for herself and her teammates to have as much fun and success as possible.
"This year I really just want everyone to have fun. Winning is great, but I want to focus on building players' confidence and having fun playing with one another. There are a lot of new, young girls that I am very excited about. I am confident that we can all come together and be a successful team this season," Mohr said.
Although Mohr's softball career at Niles West may be coming to a close, she still has a lot of hope and confidence in the program for years to come.
"All the girls should continue to put in a lot of work in the offseason like they have in the past. A lot of girls are also on a travel team, so they are still playing even when it's not high school season. Continuing to dedicate time to softball will make the Niles West Softball program even stronger for upcoming years," Mohr said.
The Niles West Girls Softball team cannot wait to see what this season has in store and is looking forward to having a fun and successful year. Make sure to come support the girls softball team Tues., Mar. 20 at 4:45 P.M. at home against Resurrection.