Spring Band Concert to be Held On Wednesday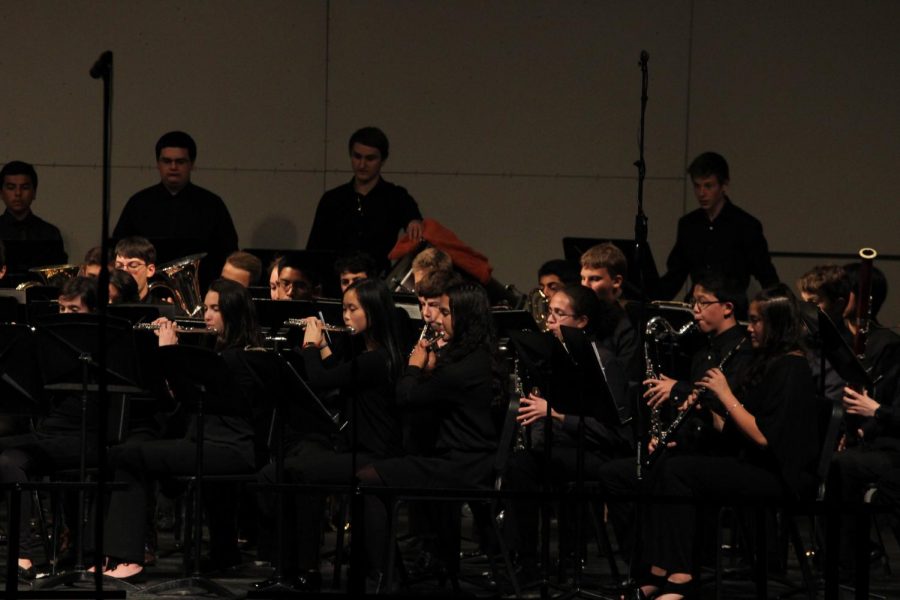 The annual Spring band concert will be held on Wed., Mar. 13 in the R.L. Johnson Auditorium. The concert is essentially a showcasing of all of the band groups within the Fine Arts Department, including concert band, symphonic band, symphonic winds ensemble, jazz band, and percussion ensemble.
Though the band has organized a concert composed of difficult music, senior and saxophonist Emily Duong believes that the ensemble is prepared to exhibit their talents while she highlights her own performance.
"We have some difficult music prepared, but I feel like we have matured a lot as a band and am excited to see the result tomorrow," Duong said. "Since it's my last year, I'm really trying to shoot for my own best performance [which consists of me] creating music that is memorable and impactful to my audience as well as my peers."
According to senior Sophia Cinquemani, a main component of the night is ensuring that she performs to the best of her ability and enjoys one of her last few performances with her peers.
"I just want to make sure I can be as musical as possible in the performance and try not to let my nerves get to me," Cinquemani said. "I also want to enjoy one of my last times performing with the band, and enjoy the times with my friends."
Though this is not her last band performance, Duong is emotional due to the lifelong friends she has made in the band and witnessing the hard work attained by the underclass saxophonists who will take her position next year.
"I am quite sentimental. Many of the other band members have been with me since the beginning," Duong said. "Now that I'm a senior, I see the underclassmen saxophones who will take my spot, and I'm proud of the work they've done."
The concert will begin at 6:30 p.m. and will last till 8:00 p.m. Make sure to come out and support the band members for their hard work these past few months.