Pressed Cafe: A Coffee Shop Worth the Visit
Pressed is a brand new cafe/sandwich shop on Oakton St. right next to Cocomero, in the building that was once Bughouse Pottery Studio. The front is small, but the shop has more than enough room. Walking in, the walls are covered with lovely artwork that's jaw-dropping. There is a small flan display case and some comfy couches, and the whirring of the coffee machine isn't as never-ending as it is at Starbucks, creating a more relaxing ambiance.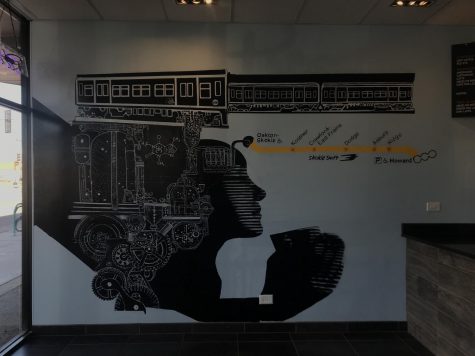 The lack of business I saw when walking in was disappointing, given that the brand new, adorable coffee shop should be thriving. The residents seem to be resistant to a Latino restaurant that doesn't serve "typical" Latino food. This cafe's motif is more centered around artisinal warm sandwiches, breakfast sandwiches, and a few traditional side foods. The cashier didn't laugh at me when I butchered the Spanish names of the food, so that put me in a good mood. The same worker actually helped me set up the wifi as well, and it overall created the feeling of a nice, comforting atmosphere for lunch.
I was slightly underwhelmed with the size of the fries, given that they were three dollars, and there were only about 15 fries in the little package. They were fine, but a bit flavorless and tasted like they were bought frozen. This doesn't set them apart, as I've been to many restaurants that offer fries that are similar.
The star of the show was the Cubano sandwich I ordered. The pork was seasoned perfectly, the ham was thin and soft, and the cheese was melted perfectly, so it warmed up the sandwich, but it wasn't dripping and making the sandwich slide around. Honestly, this was one of the best sandwiches I've ever had, and it paired perfectly with the peppermint flavored hot chocolate.
Music in the restaurant was off of a non-premium Spotify account, which I know because of the subtle "click this video for 30 minutes of sound-free music" announcement. I didn't mind this, as I've seen classier establishments play much worse for their overhead music. The theme was generally girls with guitars playing acoustic versions of pop songs, and it was pretty calming and nice to listen to. The place gave off a great vibe, even though sitting at the window counter I saw a man with pink and purple hair wearing a dog collar and a leash bike past. This experience certainly left me with an interesting talking point.
It's a definite shame that there were only two other customers who came in during the full hour I was at Pressed. There is no reason this place shouldn't be far more popular, given that it's within walking distance of West and Lincoln Jr. High. A neat coffee joint like this should be brimming with teens. It's cheaper than Starbucks, closer, and you get the added benefit of feeling good supporting a local business. I bestow a 9/10 rating upon the newly opened Pressed.