Boys Water Polo Preview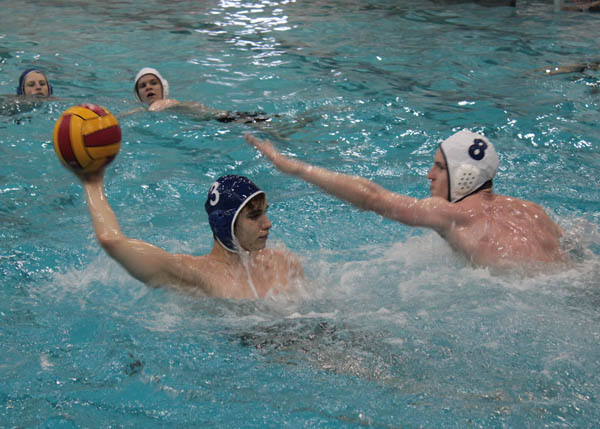 The boys water polo team is back in the water and ready to make a splash this season. The team is looking forward to a successful season and getting some quality bonding time.
Junior Jack Shimabukuro is excited for the season, as the team has been working tirelessly to become unstoppable.
"We are really looking forward to [our matches against] New Trier and Loyola because we have been working hard to beat them this year," Shimabukuro said. "We have a lot of experienced seniors and a lot of juniors who have a lot of talent. I think it's going to be a successful season, and we are shooting for state."
Team bonding is also very important to the water polo players. The team even participated in the Polar Plunge, which helped instill camaraderie early on.
"I think the water polo team is one of the closest, if not the closest, [teams] at West. We spend a ton of time in the water together, almost 24 hours a week. With that, we are almost like brothers now," Shimabukuro said.
Junior Pavle Vuksanovic believes that the team is stacked with talent, which will undoubtedly bring them success.
"Senior Albion Purelku is definitely the tank of the team. He's a great two-meter set who is an amazing asset to the team. Senior Jacob Bobiles is one of our captains, and probably our strongest defensive player. Being a lefty, he's also invaluable for our offense. Being a team sport though, everyone has to step up and fill big shoes," Vuksanovic said. "This season, we are missing one of our strongest players, senior Sam Paloma, but we hope to do well with his guidance out of the water."
Water polo practices twice a day, junior Daniel Liston is hoping that the team will be able to stay focused on playing well as a whole.
"If we can start playing better, then it would go a lot better than right now because we're kind of struggling just in general, with staying focused at practice and stuff like that," Liston said. "But if we can focus more and work harder in practice then we can be successful."
Fans of the water polo team can catch the boys playing at the York Invitational this Fri., March 23 after school.