Amazing Administration: Michael Kucera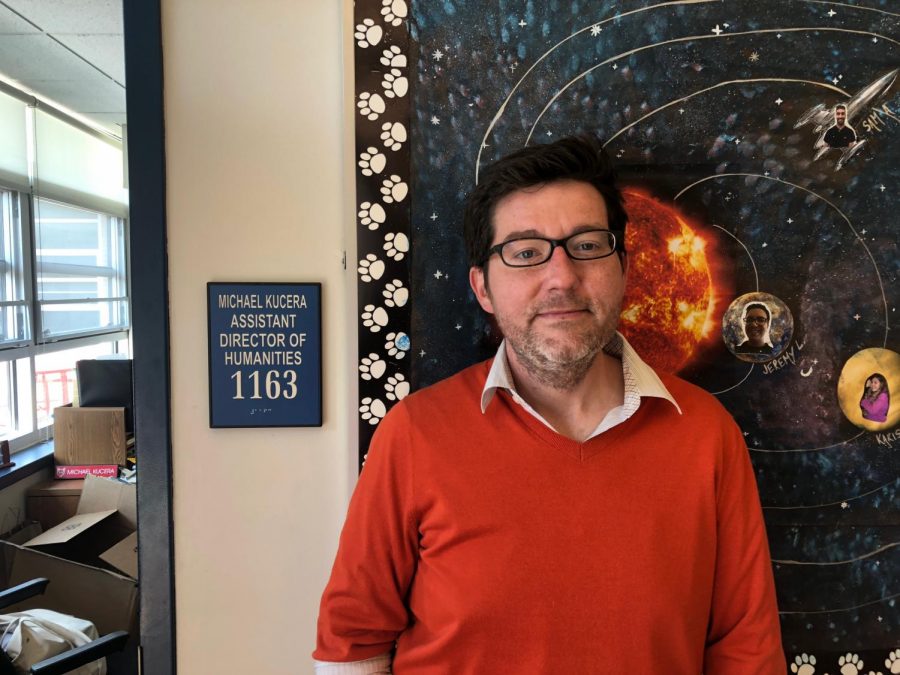 Editor's Note: This is the first in a series of features about administrators, highlighting various adults at Niles West.
Children, helping others, and English are the three things that are important to Lit Center teacher and newly appointed director of English, Michael Kucera. Interacting with high school teenagers on a day-to-day basis while tending to their academic needs demonstrates a glimpse of why Kucera loves his job.
When trying to figure out what he wanted to pursue, he automatically recognized he wanted to work with kids. When Kucera began working at West, he knew the lit center would lead to direct interactions with the student body.
"My favorite part of working here is working with all sorts of people in all sorts of settings: classrooms, the Lit Center, Student Government, the Humanities Department, and within district leadership," Kucera said. "I'm really lucky in that I not only get to teach in structured classrooms, but [I also] get to teach in a less traditional environment like the lit center. I was out of the classroom for a few years before I came here, and I really missed that part of the work."
Many students and teachers know Kucera as the "lit center guy," but few are aware of his most recent promotion–becoming the director of the English department. Kucera's love for English is evident in is actions, and he hopes to continue to spread his knowledge to those around him.
"For as long as I can remember, all I ever wanted to be when I was growing up was a teacher. For me, through both elementary and high school, the most influential people in the classroom were my English teachers. They taught with joy for reading and writing, made assignments interesting and relatable, pushed my thinking, and were never short on critical feedback," Kucera said.
Many students find the lit center an extremely useful place to go. Whether you need help with homework or want to review before a test, the lit center is a popular resource.
"Mr. Kucera brings a welcoming energy to the lit center and always does his best to help whoever walks through the doors. He approaches students with a fresh and positive attitude to help them succeed and have an 'ah-ha' moment. He is always excited to see all the students come to the lit center to get the help they need and leave feeling good about themselves," lit center tutor and junior Anna Darville said.
Students aren't the only ones who are grateful for Kucera. Faculty all around continuously praise his dedication and promise to lead young kids to become academically successful. Student activities director Katie Odell recognizes his impact not only within the lit center but in relation to her personally.
"Mr. Kucera is someone with a lot of experience who has worked in many schools. He is extremely knowledgeable and I do go to him for opinions and feedback on how to handle different situations since he's been around so many diverse schools and communities," Odell said. "I think he has impacted his classrooms too. He has impacted Niles West through the jobs that he has had and makes connections with students. He is pretty laid back and open when talking to students which allows him to make better connections, that's something I've learned from him."
Whether going to the lit center for help or interacting with the English department, Kucera is represented through the success of those areas. Kucera takes on his job step-by-step, one day at a time.