2018 Boys Varsity Tennis Preview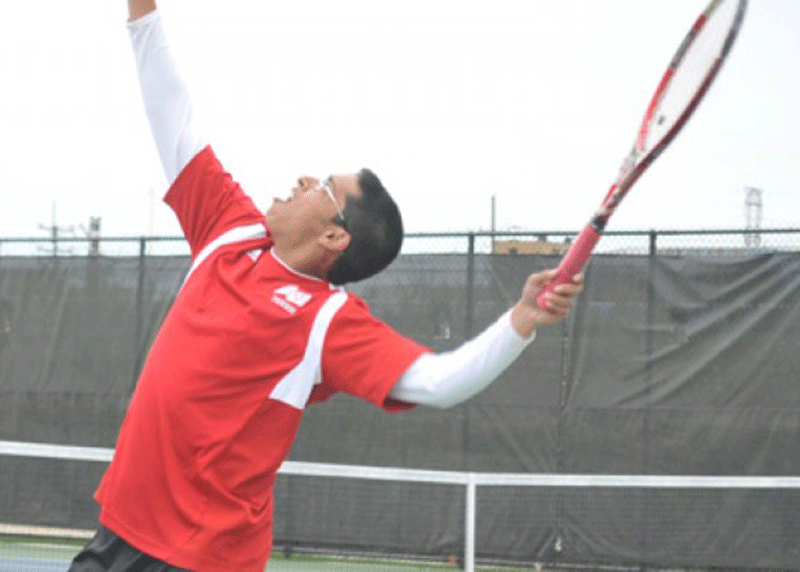 The bright green tennis ball bounces off the floor of the red and green tennis courts, the varsity boy's tennis team gets ready for their new season.
This year, the team has been on a relatively similar starting point, and they're hoping to increase their skills through each practice.
"As a skill level, we're all pretty even, so we just want to be able to all get better and raise our cumulative skill level by practicing," senior Jay Monga said.
According to senior Sheldon Shin, many key players have graduated, leaving the team searching for new members who could fulfill the vacant captain positions.
"This year, the tennis team is looking forward to having really good leadership," Shin said. "A lot of seniors left last year, so we're still in the process of finding who will be the captain and the co-captain. We want people who will lead the team positively."
While the weather has been an obstacle for the team and has caused the cancellation of two matches already, they're still hoping to improve their consistency and hitting.
"The weather is really bad. We're just hoping that it gets better," Shin said. "Other than that, we have to work on our hitting. [We also] need to work on being consistent as players. As a team, but individually as well."
The team has already played two matches, winning only one. According to senior Chris Nanos, the team still has a lot of improvement left before the end of their season.
"We started off on a bad start, but I think we'll improve throughout the season by practicing," Nanos said. "Consistency is important, and so is growing as a team."
The next tennis match will be on Sat., Apr. 14 at the Maine South Invite. Make sure to visit and cheer on the Niles West team.