NHL Playoffs Are Underway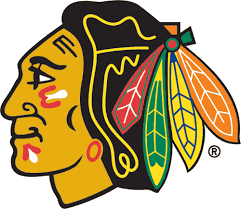 Last Wed., Apr. 11, the hockey world took off in the most exciting part of the season: playoffs. This year's playoffs aren't much different from the previous except for two big changes. The first being the most heartbreaking to Chicagoans, this is the first time the Chicago Blackhawks haven't made the playoffs in 10 years. It's not a very hard argument to make, the Hawks just didn't have it this year with veteran players leaving and new faces joining.
The Blackhawks finished 33-39-10 during the regular season and last in the Central Division. The other surprising story about this year's playoffs are the newest NHL expansion team, the Las Vegas Golden Knights, not only made it to the playoffs but are the number one seed and currently winning the round one series 2-0 against the Los Angeles Kings. No one in the sports universe typically thinks an expansion team performs up to par with the other teams, but the Golden Knights proved everyone wrong. They finished with a more than impressive record of 51-24-7 and first in the Pacific Division by a landslide.
A lifelong hockey player and junior Austin Kessem was not disappointed when watching The Stanley Cup Playoffs, especially since it started off with a bang.
"The best part about the NHL playoffs is how different the intensity is from the regular season, this year in particular because of the new expansion team, the Golden Knights," Kessem said.
On the other hand, it's been a sad year for Blackhawks fans as they just couldn't seem to play with the same intensity they have been the last few years.
"Not having the hawks in the playoffs is kind of hard since how much skill I think they have but without Corey Crawford for half the season, I knew it was going to be tough for them to make it," Kessem said.
"It's weird because the hawks always seem to be in contention and all of the sudden they're not," sophomore Andrew Pabst said.
Natalie Moscovitch will support the Blackhawks regardless of their record.
"I'm very frustrated and disappointed and still don't get how they got first in the division last year and couldn't finish it but I still am and will always be a Hawks fan," Moscovitch said.
Even though the Blackhawks didn't make it, the upcoming NHL playoffs are sure to be just as exciting as the previous years and so far, the Golden Knights are proving it. Catch any game of the first round every night for the next couple days or check up on the scores at any time on the NHL website.