Jason Ness: A Principal with Principles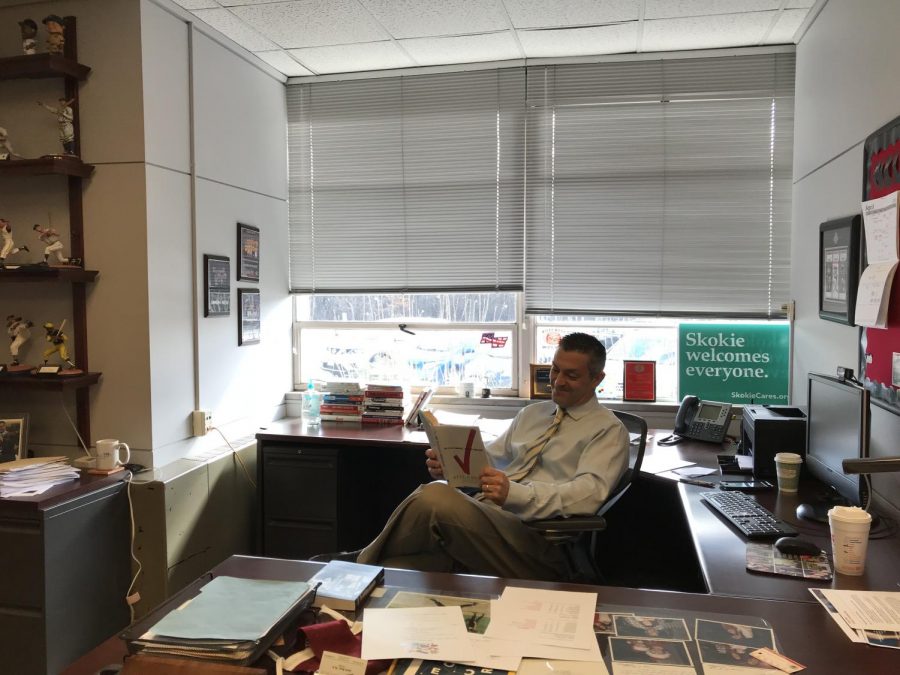 Editor's Note: This is the second in a series of features about administrators, highlighting various adults at Niles West.
Many successful people are guided by a specific philosophy that is the driving force in both their personal and professional lives. These philosophies vary from person to person; some advocate for working to solve the gigantic problems of the world; some work on mindfulness; and some focus simply on hard work.
For Niles West principal Dr. Jason Ness, the driving philosophy can be broken down into one key question: What is best for the students?
"My philosophy over time has changed. The more that I'm in the role, the more questions I have about things," Ness said. "But I think in terms of philosophy, everything has to start with, 'What's best for the students? What's best for the community? What opportunities can we have here, so that when students graduate from Niles West, they're informed, they're knowledgable, and they have a skill set socially and emotionally?'"
Ness first came to district 219 in 1999, when he worked at Niles North for eight years as a school psychologist and had the opportunity to coach both football and baseball. Coming from a family of educators helped Ness make the decision to go into education.
"I think education for me is part of my DNA; I would call it a family business," Ness said. "Both my parents were in education. They were both teachers. My brother is a teacher. My wife is a teacher. So whether it was conscious or subconscious just by being surrounded throughout my whole life, it just seemed very natural to go into it."
To Ness, Niles West's proximity to the city is one of its most appealing aspects, as it contributes to the diversity the school enjoys.
"What I love about it is the location. The location and the diversity here give it such an urban feel. You get folks from all over the world, and it's an opportunity to learn from the families. And each day presents itself unique opportunities for that," Ness said. "We have an outstanding staff that really care deeply about the work and care deeply about the students. It makes for a really great team and a great environment."
Members of the staff share a similar admiration for Ness, as well.
"Dr. Ness is a good man. He understands how to be a leader and be in charge. He lets you do your job and does not micromanage, which I think is very important," assistant principle Mark Rigby said. "He lets the people that know what they're doing, do their job. He cares about kids, he cares about staff. I appreciate everything he's done for me."
One of the goals Ness has for Niles West is for the school to enable every student to reach their full capacity.
"You want every student to be able to meet and exceed their potential. You don't want students to come here, and you don't get the most out of them; they underachieve. We want our kids to achieve as much as they can and more, " Ness said. "I think creating systems here at the school that are equitable in terms of opportunities for students and that kids have an experience that are not just for some, but for all, is really the goal, so that, when they leave here in four years, they can look back and say, 'I got everything possible out of my high school experience.'"
Students appreciate Ness's dedication to improving their high school experience, especially based on the value Ness places on student voice.
"I've worked with Dr. Ness in various instances. In student government, we've talked about issues at our meetings and also with our breakfast with the board, but what really caught my attention was how he led the student voice initiative. Dr. Ness was helpful in guiding us through this whole process, especially as it was a newer approach to things," senior and student leader Shebin Chacko said, referring to the new school initiative aimed at increasing student voice throughout the building.
Overall, Ness's vision for the school has come together to provide competitive programs for every student.
"When we have guests that come to the high school, everyone says the same thing: 'I wish I went to high school here.' Look at this, it's crazy," Ness said. "From the Fine Arts to engineering, to the sciences, English, all the world language opportunities, and our English Language Learners. There's a lot of responsibility, but it keeps you motivated, and it keeps you inspired to provide those things."