Niles West Science Olympiad Team Takes 13th in State Competition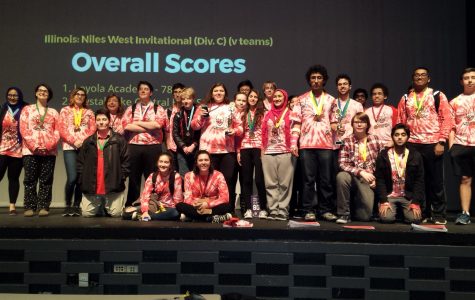 The Niles West Science Olympiad team competed on Saturday, April 21st at the state competition at the University of Illinois Urbana-Champaign. The team placed 13th out of the 24 teams in their division.
The team won medals in a variety of the events: freshman Alex Thoppil and senior Christopher Rohn, second in Dynamic Planet; sophomore Zachary Werth, senior Michael Rohn, and senior Christopher Rohn, third in Experimental Design; junior Muhammad Afzal and senior Jeremy Steegmueller, third in Game On; sophomores Agata Soltys and Adrian Recinto, second in Geocaching; sophomore Daniel Cudzich and Michael Rohn, third in Thermodynamics.
For Michael Rohn, placing in his events was especially important, with it being his sixth and final year of Science Olympiad with this team.
"I felt like it was a perfect way to end a very strong passion of mine," Rohn said. "I would've liked to seen our team crack the top ten, but in terms of personal accomplishment I don't think it could have been really any better."
Muhammad Afzal believes the team worked extremely hard and placed well based on their expectations.
"Overall, I think the team did much better than what we expected," Afzal said. "I think that per events, students tried their best and that it showed, their accomplishments in their scores and also just the amount of fun they had, and how they were able to accomplish tasks was necessary for their events. So overall, I think it was a really good time of the year and we were successful."
In Science Olympiad, it's rare for a freshman to compete at the varsity level, and winning awards as one is even rarer. Coach Parin Patel explains his hopes for the upcoming talent next year, exemplified by freshman Alex Thoppil.
"I'm really excited to get to know all the younger members and see what they are going to do at the varsity level," Patel said. "I'm also really excited about all the building events and seeing all the creativity they bring. The younger students really come together and work well together, so I'm excited to see how that translates to success for Science Olympiad and as a team bonding."
According to Afzal, Science Olympiad is hoping to carry on their success this season towards next year, and possibly qualify for the national tournament.
"Next year, I want Science Olympiad to be able to get a lot faster in terms of getting on track for events early in the season, building stuff beforehand and studying, so that we have a much better chance at going to nationals," Afzal said. "Now I see it where we are at the same level as New Trier and Stevenson and other high-level schools are we just need to take that one step forward and make it."