A Quick Guide to Simple Promposals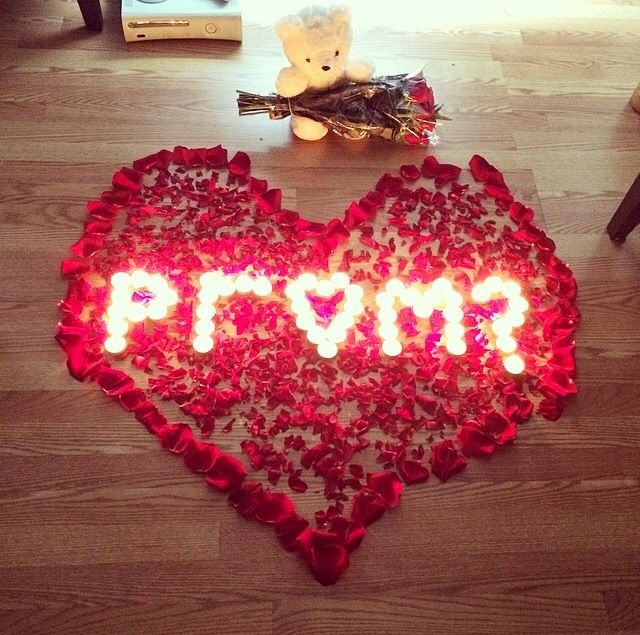 Prom is only a short three weeks away, which means it's officially promposal season. Prom tickets went on sale last week Wed. April 18. This means that these next couple of weeks you will be seeing countless posts of promposals. If you're asking someone to prom and have no idea what to do, here are some quick, easy ideas.
Pep Assembly Promposal 
Since the beginning of high school pep assemblies, it's become an unofficial tradition for at least one person to get asked to prom at one. This promposal is pretty inexpensive, all you need is a large banner and someone to write out "prom" in large letters. Before the actual promposal, it needs to be planned out with the school so they can block out a time in the pep assembly for you to actually ask. When the time comes to actually ask, you walk out with maybe two other people holding the banner, and call out the person's name. This is a very simple and pretty cute way to ask someone to prom.
Pizza Promposal 
People everywhere share one common love: pizza. A cute way to ask somebody to prom is to order a box of pizza and on the cover of the pizza box write "This might be a little cheesy but…" and on the pizza in pepperoni spell out "prom." It's very basic, but you get a date to prom AND pizza at the end.
Height Promposal 
This promposal is fairly inexpensive, all you need is a large board, scissors, and a marker. You also need to know the height of whoever you're asking. In preparation for this, you need to cut out a sign that says "you need to be this tall to say no to prom" and make sure that the sign is taller than your date. Personally, I think this promposal is overused and limiting, but people seem to really love it.
Sports Promposal 
If you haven't even thought of a sports-themed promposal, then are you really even thinking of possible promposals? I swear one in five people are asked in a sports-themed way. There are a lot of ways you can go about this. You can ask them with a theme of a sport they play, a sport you play, a sport in general, or a specific sports team. The one thing I would not suggest is writing "prom" on a ball and calling it a day. If you're going to do a sports-themed promposal, make it personal, cute and funny.
Light Promposal 
Everyone wants their date to shine at prom, even if you're going as friends. Just putting this out there, I would not suggest this promposal due to the fact that it is so overused and basic. But, you could ask someone to prom by playing with the saying "would you light up my night at prom?" and use a variety of shining lights. It's very sweet, and it's very simple.
So you've officially reached the end of this list and if these ideas did not help then consulting with your date's friends is the best option. At the end of the day, your promposal will make your date happy no matter what it is. Come up with ideas of how to ask quickly, because prom is right around the corner!