Lucas Leavenworth: Mathematics Mogul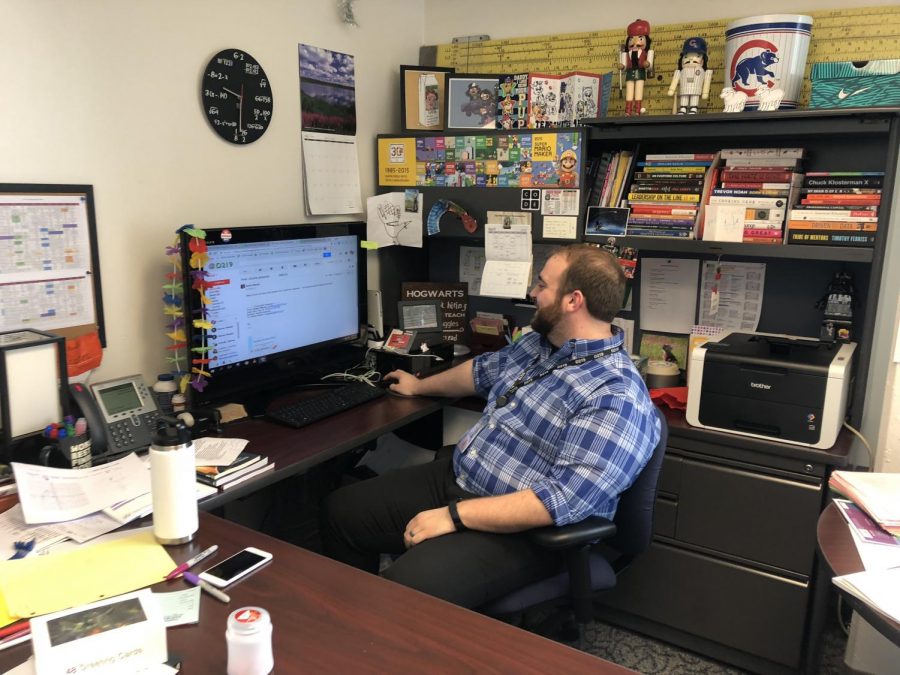 Editor's Note: This is the sixth in a series of features about administrators, highlighting various adults at Niles West.
Life is a series of creating goals and having plans set to fulfill them. Throughout high school, students are tasked with deciding where and what they want to do with the rest of their life. For many, the question 'What do you want to do after college?' results in a feeling of uncertainty and stress. Mathematics director Lucas Leavenworth thought he knew what he wanted to do, like many students, but later changed his mind towards a different direction: teaching mathematics.
"I was big science and math guy in high school. I had some early admissions and interest for schools for pre-med programs and things like that," Leavenworth said. "But then I walked into my AP Biology class senior year and I'm like  'oh god this is not anything I want to do.' I figured you shouldn't go medical if you don't like biology. So, I've always been really interested in teaching and I felt like I was a good judge of my teachers as a student. When I started making that shift in my thinking senior year of high school I was like, 'alright. I think I want to teach. Pretty sure I want to teach high school.' Junior year I had an honors pre-calc teacher who was just still my favorite teacher and I'm like 'math would be the way to go."
Before teaching at Niles West, he taught at Waukegan High School, where he worked multiple roles to provide for the students.
"Niles West is only the second place I have ever been. I was up in Waukegan for the last eight years. I was a teacher there, I was a dean, I was department head, sometimes multiple of those at once since it's a really underfunded district with a lot of students so the needs are very high. And when you're doing things well, they start saying what else can you do, and can you start doing multiple things at once to help us and help the kids." he said.
Leavenworth credits his hard work ethic from years working at his previous job where he worked towards improving relationships between students and teachers, while also advocating for a greater push towards equity in classes.
"My biggest push and biggest hope is developing student relationships. Regardless how a student may feel about math, and I understand there are lots of reasons why you may or may not enjoy being in a math class, I never want the teacher to be the reason why you don't enjoy it," Leavenworth said.
Freshman Rosmi Matthew has Leavenworth for Algebra 1 and sees his dedication to his students on a daily basis.
"He explains it thoroughly- whenever we don't understand one problem he just starts giving us more problems with similar ways to get us to understand it," Matthew said. "He doesn't give up when somebody doesn't understand anything, he usually asks them to come over to him and have a special meeting with him to get their grades up."
In his first year at Niles West, Leavenworth has made class equity, especially regarding gender, one of his biggest concerns.
"We started off by talking to students. We did it very superficially with a survey and just based on our initial data results, we have found that we have many more female students saying at some point and time they were discouraged from taking some of these upper-level courses, for a number of reasons," Leavenworth said. "Some of it was academic workload, taking too many AP classes, things like that. But we're seeing that trend overwhelmingly in our women at this school, and it's obviously concerning."
Math teacher Colleen Gogerty has seen firsthand Leavenworth's dedication to research on equity, in both the classroom and boardroom.
"He's [Leavenworth] been very supportive of encouraging the faculty to dig deeper into how we can integrate equity, in terms of both race and gender, and even going beyond that," Gogerty said. "Just really who we're hearing from in the classroom, and who we're making classes available to. He gives us a lot of support in where we want to go, and giving us the time to do that."
Leavenworth believes the math department has had a good start on its push for equity, but there is still much to be accomplished.
"I want every student to feel valued in a math class regardless of they feel about the content. When we started looking at the numbers and data we saw that girls in the math program started off on an even footing with the boys in terms of honors courses and high-level math courses. As they progressed towards senior year, not only did the number of girls in honors courses decrease, but the number of boys increased, so the difference got magnified," Leavenworth said. "Every system is designed to get the results that it gets, whether that's intentional or not. Again, this is the first year so we're just taking a hard look at it and asking some tough questions, but I think we're doing a good job of it."