Hamilton Star Surprises West Students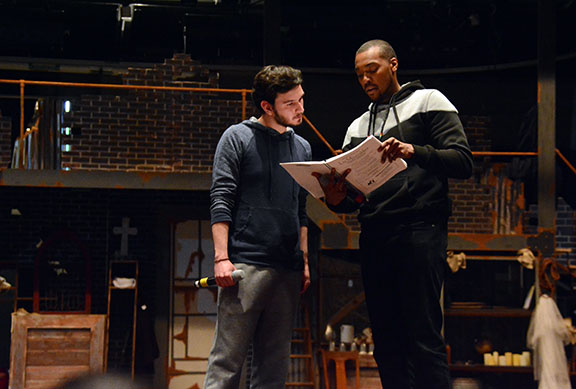 A big surprise was brought to the choir students this past Monday in the Robert L. Johnson Auditorium during seventh and eighth period: Jonathan Kirkland from the Chicago Broadway production of Hamilton. In Hamilton, Kirkland stars as first president George Washington.
Choir director Matthew Hunter went to school with Kirkland at Michigan State University, where they both were studying to be musicians. After a great amount of time trying to find a day to reunite, Hunter and Kirkland both made time this Monday to surprise the choir students.
"Jonathan and I met in college, we were both music majors. We came in the same year. He was a vocal performance major, and I was a music education major," Hunter said. "I decided to keep it a secret, number one because I was nervous that something might happen and he couldn't come, then you all would be mad at me and disappointed. So, I was like okay let me keep it a secret and make sure this is actually going to happen before everyone is fanning out and the entire school is trying to get into the auditorium, and then Jonathan doesn't show up. I know that things happen, so I was just a little nervous about it, but I also knew that it would be a great surprise."
While Kirkland was at West, he answered questions from Hunter and the audience and was able to coach two students performing in Les Miserables with their vocal technique and performance skills. Junior Kenan Ozer was caught off guard when he was told he was going to be helped by Kirkland. He ultimately went on stage and sang for the entire department.
"Mr. Kirkland really helped me learn how to act a scene through a song. The one thing he told me that stuck with me the most was that stillness can tell just as much of a story as moving around. When he told me that, I was able to connect more with the song, with the audience, and make it sound the best it could sound," Ozer said. "Being taught by a Broadway performer showed me how much hard work needs to put into the profession, but it also showed me that the amount of work that's put in will always be worth it in the end if it's your true passion."
Kirkland ended the clinic and Q&A with a piece of advice for any of the students pursuing performance as a career, as well as advice that could be relevant to anyone in life.
"Do not compare yourself to anyone," Kirkland said. "You'll see a lot of people get what you want, and just rejoice. When you hear 'no', it's not an out on you. Be patient and become better than you were yesterday."