Barbara Wismer: More Than an Artist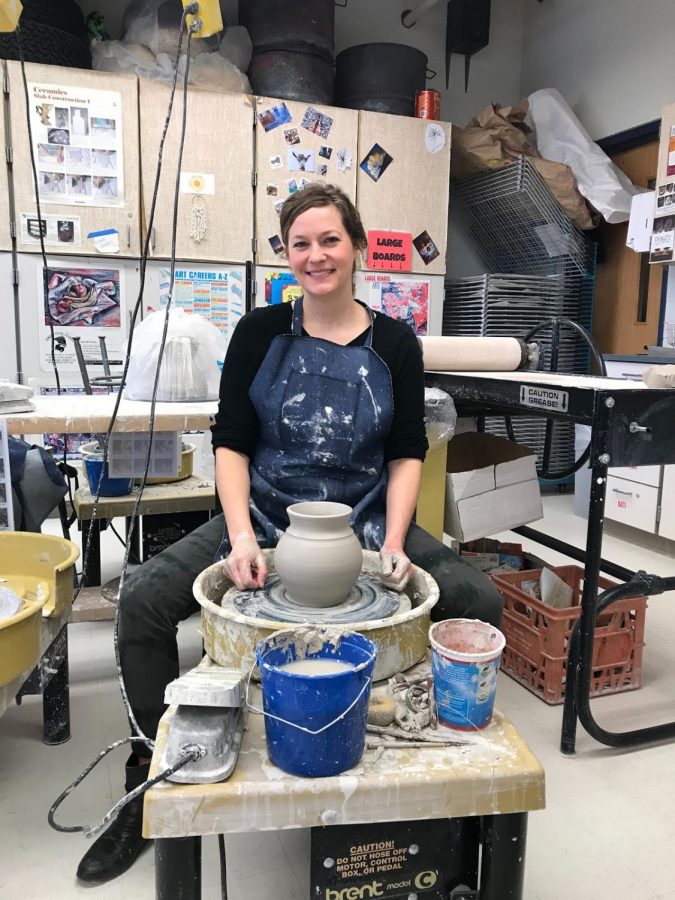 By Milton Guendica, Staff Contributor
May 3, 2018
Art teacher Barbara Wismer's daily routine is nothing short of a creative rollercoaster. As she navigates from ceramics, digital photo, to art foundations, her day is filled with artistic challenges. With clay dust-covered clothes and an earthy style, Wismer stands out for her creativity and successes in the classroom. Going back to her high school self, Wismer would have never imagined being at the place where she is today.
A possible career in the arts bloomed for Wismer back when she was in high school.
"When I was 16 years old and got my drivers license, I told my mom that I wanted to take pottery classes. I found a pottery studio up in Gurnee and started taking classes there, where I learned to throw on the wheel and ended up falling in love with it. Then I decided that's what I wanted to do for a living," Wismer said.
It was not until college that Wismer found a greater passion: teaching. While attending Illinois State University she took all kinds of studio classes: drawing, painting, metal and jewelry, ceramics and sculpture, photography and darkroom photography.
Flash forward years later, and Wismer has been in the art education field for as long as she can remember. Her expanse of knowledge in various art mediums has made a lasting impact on many of her students.
"Working with Mrs. Wismer has been one of the luckiest opportunities I have had because of how excellent she is at reading people and understanding their creative visions. Having this unique skill alongside her mastery of ceramics, she gave me great ideas and taught me new techniques that helped evolve my artistic voice," alumni Brendan O'Shaughnessy said.
Dedicated to helping students reach their full potential, Wismer is an active listener and offers creative suggestions to spark a creative conversation with oneself.
"I would always show her my proposals for new projects and no matter what she would receive it with enthusiasm; upon telling her my ideas she would offer me inspirational artists and glaze combinations to explore," O'Shaughnessy said.
Wismer's enthusiasm for helping her students was one of her guiding reasons for the introduction of Niles West's newest art class, AP 3-D Design.
"When I got here we had clay and kilns but did not have an official ceramics class. Around 2008-2009, I proposed the ceramics 1 class. We ended up growing with sections and ultimately introduced ceramics two. The whole program started to grow and flourish. Many of my students after ceramics two asked, 'what's next?' That next step could have been a sculpture class, a ceramics three, or an advanced 3D, but we decided on AP 3D. It was the most relevant: it could be repeated, advancing skills and acquiring scholarships." Wismer said.
Many of her colleagues have also been impacted by Wismer. Co-worker Amy Zwikel praised Wismer's dedication and personableness.
"[Wismer is] phenomenal, a great coworker, a leader in our department and a joy to be around. Any question I have she is happy to answer and we are able to share ideas back and forth. Being able to work well with one another while creating projects helps ease the intense transition from ceramics one and two to AP where the project demand is higher." Zwikel said.
Though Wismer has had a lasting influence on the lives of many of her students, teaching students has also granted her unforgettable life lessons.
"The opportunity to find something my students love and are passionate about is really powerful to me. I have a lot of students who come up to me and say this class is the best part of my day and is why they come to school," Wismer said. "What gets me most excited about what I do is seeing the creative process. They blow me away with the things they come up with- things I can't even imagine."
Her journey as an artist has shaped her definition of what an artist and art is.
"Life would be really boring without art. Art is something that just ignites a fire in me and I am passionate and excited about," Wismer said. "I love working with my hands and problem-solving. There is just something creatively ingrained in the human mind in our early days when we had to work with our hands for survival. It is an inherent desire that is part of human nature."
Her impact on students has driven many of them to pursue art. In our society, the misconception that living off the arts is unachievable is still as prevalent as in the years past. When challenged by parents who worry that their talented child cannot live off the arts, Wismer responds with positivity and optimism for the future of her students.
"I know that this is a common misconception out there in the world, but there are so many creative careers out there. There is a need for industrial designers, graphic designers, teachers, gallery, museum workers, etc.," Wismer said. "With the internet, it is so easy for people to find you and your work. I truly believe in the saying, 'if you do something you love you never work a day in your life.' I know juniors and seniors are making important decisions in their lives but I think the most important thing is to find something you love and go with it. There a lot of careers that combine science, technology, engineering and mathematics with the arts."
Wismer teaches you more than how to work with clay. She teaches her students to express themselves using art as a positive outlet and is passionate about helping every one of her students grow not only as artists but as people.