2017-2018 DECA Recap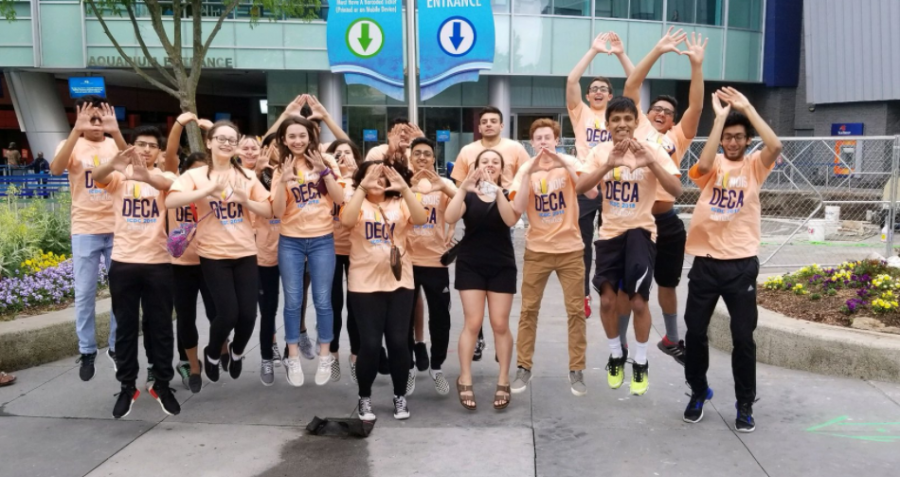 With the school year coming to an end, clubs and school organizations are wrapping up and getting ready for the next year to come. Niles West's DECA team has had an incredible year filled with a variety of achievements. The students have put in their full effort this year to go to the next level and succeeded.
All extracurriculars usually participate in some type of fundraising. In the fall, DECA started off with their annual Fall Flower fundraiser which was a hit. After fundraising, the students started to focus their next competition at the beginning of January and a select few were chosen to compete at state towards the end of February. Sophomore Finn Holleran qualified for state and made it to nationals/
"At state, DECA members present projects which are generally 30-page papers created by a group of 1-3 people," Holleran said. "I was in a group of three joined by Muhammad Munsani, and Wassay Khan. We placed first place at state and got the opportunity to advance to nationals. 20 of us in DECA qualified for nationals which was held in Atlanta, Georgia this year."
Holleran's group member, Khan, was pleased with their performance at state and nationals. Even though he was satisfied with the final result, Khan sees areas of improvement that could help his group place at nationals in the future.
"Nationals took place in Atlanta, Georgia during April and during the gap between state and nationals, my group improved upon the project we presented at state. We didn't end up placing at nationals but I feel that we could definitely do it in the near time future. For next year, we need to start our paper on time and work on it throughout first semester so we can create the best paper possible," Khan said.
Besides just finding room for improvement within their projects, the underclassmen are going to have to adjust and take lead with the seniors leaving. Sophomore Anna Urosev is ecstatic with all the accomplishments the team has made this year but recognizes how bittersweet it is that all seniors graduating.
"We had 20 students qualify for nationals by placing top three in-state which was incredible because normally not that many get the chance to go to nationals," Urosev said. "It's going to be tough to lose the seniors since they make up a majority of our strategies in class but we've already begun preparing for next year. We have many sophomores and juniors who've been super involved in DECA so we're expecting a strong year."
Even though the seniors will be leaving the underclassmen this month, the students are already setting goals and figuring out ways to improve and strive higher for the following year. Urosev has her own personal goals and goals for the overall organization next year.
"I want us to qualify as many groups as possible next year for DECA and a personal goal would be to place top four in my roleplay at state," said Urosev.