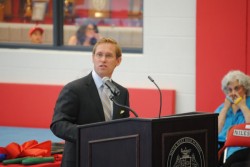 Former Niles West gymnast and Olympic gold medalist Bart Conner (class of 1976) spoke Friday, Sept. 2, during a ceremony to celebrate the opening of the new gymnastics facilities. Former, present, and future gymnasts, as well as varsity sports captains, and distinguished members of the community listened to his speech about the West Gymnastics team, the new gym, and following your dreams.
The NWN was lucky enough to be at the event, and to have a brief conversation with Bart Conner.
NWN: So how does it feel to be back at Niles West after all these years?
Conner: It's a thrill, compared to when I went here, the school looks absolutely amazing.
NWN: What do you think of the new gym?
Conner: The gym is fabulous, it's extremely impressive
NWN: So what does it feel like to be an Olympian?
Conner: I can't really describe it, I remember when I made the team in 1976 that (Legendary Niles West Gymnastics coach John) Burkel told me that this was so much more than just being a great athlete. I remember him telling me that from now on people would always associate my name with "Olympian," and I thought that was pretty cool. To this day, I am so proud to call myself an Olympian because I know I got there through hard work and dedication.
NWN: How did you get into Gymnastics?
Conner: It just came naturally. I would play at Austin Park when I was little, and from a very early age I was able to do a handstand on the monkey bars. My parents realized my talent and I just went from there.
NWN: Your specialty has always been parallel bars, but was that your favorite event in high school?
Conner: I loved all the events I competed in, but parallel bars was probably my favorite out of all of them.
NWN:Did being in the gym just make you want to hop up on the Parallel bars and try your Olympic routine again?
Conner: (laughs) No, not exactly, but I do want hop up there and see if I still got it. Maybe I'll try a handstand later on today.
NWN: How good could you have been if the team had all of the new equipment we do now back in 1976?
Conner: The new equipment is amazing, but I was never a club gymnastics kid, and I went all the way from my first handstand to the Olympics practicing on the balcony of the main gym, so I guess that goes to show you that equipment isn't everything. As long as these kids put in the work, they should succeed, and the new equipment should definitely help with that.
NWN: Do you have any advice for the gymnasts on the team, or for anyone in general?
Conner: In order to succeed you have to focus on the process. It's the effort not the result that gets you places.