Hungry Like the Wolf: Buffalo Chicken Tenders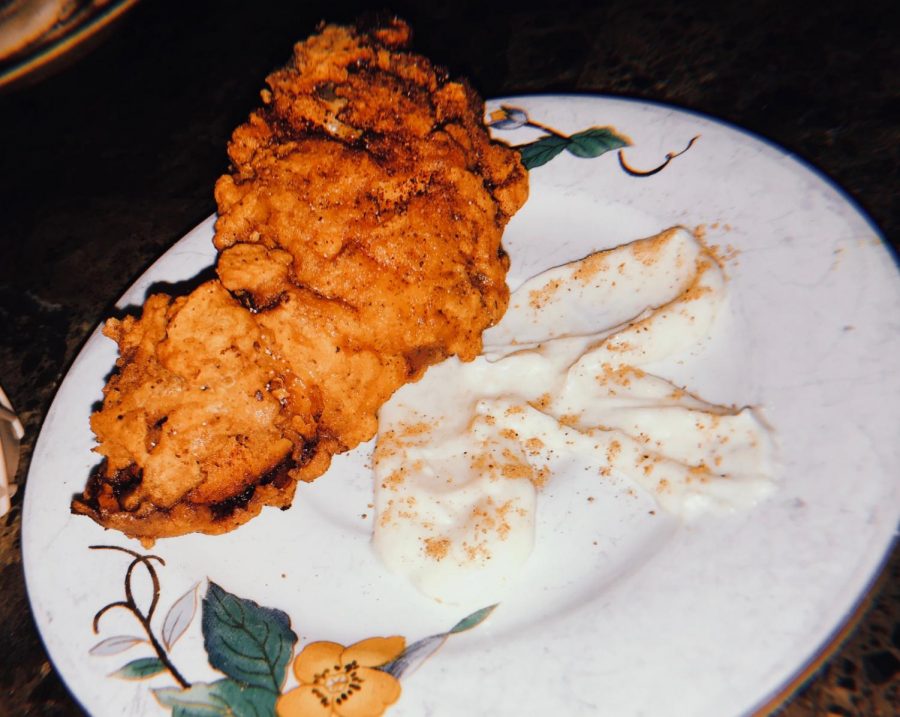 School is back in session, which means we all are craving some easy, comforting food to feast on when we get home. If you like chicken fingers or fried chicken, you have to try these tenders!
The secret to making the meat tender is marinating the chicken in buttermilk one day in advance. Not only does this tenderize the meat, but it adds flavor and helps your chicken come out nice and crispy. That's why I also like dipping these tenders in whisked eggs; the egg will add a sticky coating to your chicken and help the flour adhere to it.
Now I don't know about you guys but I love anything spicy, especially if it's buffalo chicken. Although you may be thinking its extensive to put buffalo sauce in the buttermilk and eggs, you will hardly taste the heat after the chicken comes out the oil. Instead, the hot sauce and seasoning will flavor your meat so your not just eating plain fried chicken.
That's why I recommend seasoning your chicken with salt and paprika right when it comes out the fryer for that final touch. And if you're not a buffalo chicken fan, which I don't really understand, just omit the buffalo sauce from the recipe. Instead, replace the flour with breadcrumbs to make plain old chicken tenders.
I would also recommend serving these with blue cheese, ranch or garlic mayo.
Enough talking, let's get cooking!
Buffalo Chicken Tenders
1 pound chicken breast (tendered or cut into strips)
1/2 + 3 tablespoons hot sauce
1 cup buttermilk
2 teaspoons paprika
1 1/2 teaspoons garlic powder
1 cup all purpose flour
1/2 teaspoon salt
1/2 teaspoon black pepper
1/2 teaspoon poultry seasoning
1/2 teaspoon Cajun seasoning
2 eggs
A quart of vegetable or canola oil for frying
In a bowl, combine chicken tender pieces with hot sauce, buttermilk, 1 teaspoon of paprika, and 1 teaspoon of garlic powder. Cover and refrigerate overnight or a minimum of 3 hours
In a wide bowl/plate, add flour, remaining paprika and garlic powder, salt, pepper, Cajun seasoning, and poultry seasoning and whisk to combine
In a separate bowl, crack both eggs and whisk with remaining 3 tablespoons of hot sauce. Set aside.
Over a medium-high stove, bring oil to at least 375 degrees. Cover a tray with aluminum foil or parchment paper to lay out dredged chicken.
Remove marinaded tenders from fridge and begin dredging and coating. Using tongs, grab a tender, one at a time, soak in spicy egg wash, and coat thoroughly with seasoned flour. Lay breaded tenders on lined tray and allow 5 minutes to rest before frying.
Fry chicken tenders only 4-5 at a time. Overcrowding the fryer will result in  darkened oil and uneven temperature since the cold chicken brings down the temperature of oil. Fryer for 5-7 minutes or until golden and crispy.
Cool on rack or plate for at least 5 minutes after removing from hot oil and sprinkle with paprika and salt. Serve with additional buffalo sauce, ranch, or sauce of your choice.