Melanie Brill: Flipping Her Way Through Freshman Year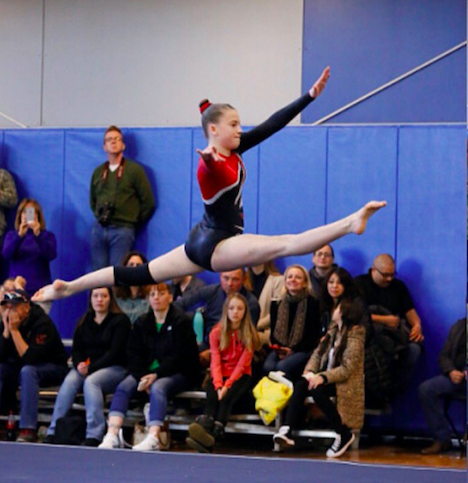 One second you see her lining up miles away at the start of the vault and the next second she is flying through the air, whipping her body into a one and a half… STICK! Blisters, bruises, and battles are all apart of freshman Melanie Brill's life as she flourishes through her passion of doing gymnastics. Whether it's training for hours on end or pushing through injuries, Brill's love for the sport never diminishes.
From as long as she could remember, gymnastics has always been present in her life.
"I started gymnastics when I was bout 3 and that was a toddler class so I just learned basic stuff. After that I sort of stopped gymnastics for a couple of years to try new sports out and see what I was good at. After I was about 6, I realized gymnastics was the sport for me. I've stuck with the same club team for 8 years now and it really is just an amazing feeling," Brill said.
With gymnastics being time consuming, she takes advantage of any free time she has to put that into her social life.
"Not only do I do gymnastics but I love to play soccer. Whenever I'm not playing any sports in general, I like to go shopping or just hang out with my friends. I am also the youngest of three girls so I love spending time with family and my sister when we are all together," Brill said.
For Head Girls Varsity Gymnastics Coach Susan Arcus, Brill is a piece of the puzzle that she is extremely excited for. Keeping an eye on her since before she was a freshman, she has high expectations and confidence in what the freshman will achieve this season and for her future years to come.
"She is really good in terms of thinking deeply about what she is doing. She wants to improve and make change which is difficult for many people. Melanie really focuses and wants to do better," Arcus said. "For her, we just need to remind her to take one meet at a time. Her love for the sport, focus, and wanting to improve with such a positive attitude does a ton."
Athletically ability is always helpful when perfecting your craft, but personality speaks volume. Along with all of her coaches, teammates boast about how great Brill is as a regular teenager. Senior Kassandra Marin had a lot to say about Brill's personality and character.
"Having Melanie on the team has been great. She brings a lot of joy to our team and she fits right in with all of us girls. She's always very supportive and is always cheering. She's already bonded so well with the varsity team and coaches as well," Marin said. "Mel has such a great personality. She is a goofy girl but also knows how to stay on task when she needs to. She is so kind, smart, and a talented girl."
Coach Arcus was in agreement with Marin about Brill being a genuine and refreshing addition to this years team.
"She is always willing to try new things and is extremely open-minded. Melanie is also extremely positive and always easy-going when it comes to giving things a go. She is coming into her schoolchild career with a positive attitude and her ability to take construction, which a lot of people can't do well, and run with it is really going to lead her to a great place." Arcus said."
Whenever you are looking for Brill, you can find her flipping infinitely on trampolines in the gymnastics gym or flying through the air into a foam pit. School, friends, and family are values she cherishes, but gymnastics is the reigning champion in her life.