Merrick Garland Speaks at Lincolnwood School District 75th Anniversary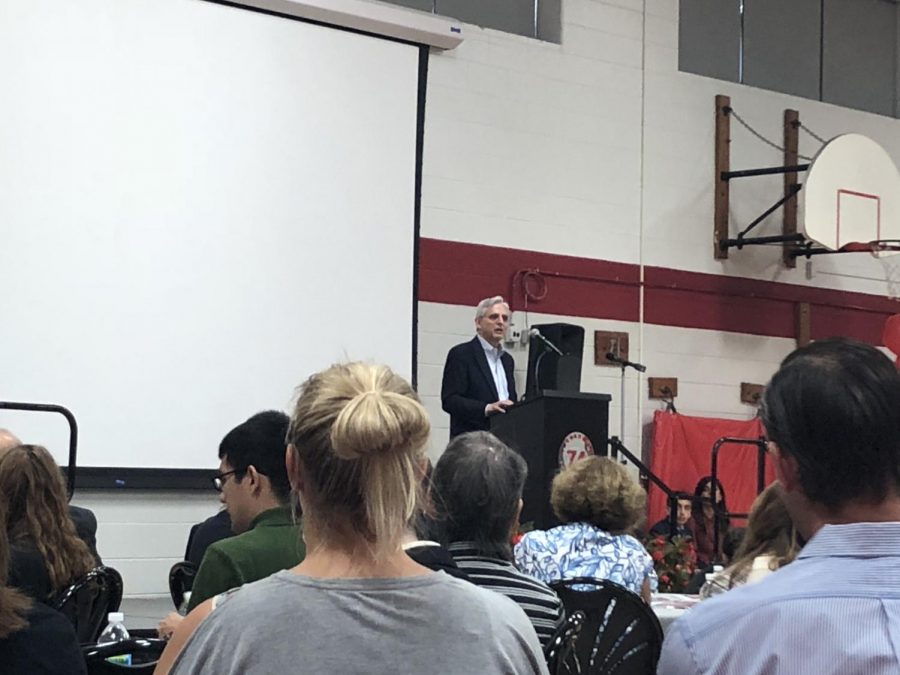 Lincoln Hall Middle School celebrated their 75th anniversary by featuring Judge Merrick Garland as a keynote speaker on August 31. Garland attended Lincoln Hall and was in the class of 1996.
The event began with The Pledge of Allegiance, followed by the National Anthem, sung by a current Lincoln Hall student. Communications Coordinator Christina Audisho and Superintendent Kimberly Nasshan gave small speeches as well, talking about their experiences working in the district. Board President Scott Anderson then introduced Garland.
"The lessons we can learn from Garland are paying meticulous attention to detail as well as kindness," Anderson said.
The audience gave a standing ovation as Garland made his way to the stage. He began by thanking "Mr. President," something he said he had only done once before. His speech shared the differences of growing up in Lincolnwood in the 50s versus now.
"My two sisters and I lived a block away from the village park [Proesel Park]," Garland said. "That's where I went to camp, played baseball in the summer, and skated in the winter. There was no swimming pool, village library, or no fire department. Childhood was less programmed for us than it is for you guys. The toughest decision we had to make on a Sunday night was whether to go to Baskin Robbins or Dairy Queen."
Garland also shared anecdotes from his Lincoln Hall days.
"Mr. Barden taught sciences. Our room wasn't as nice as the science rooms now. He let me pursue my science fair project, which involved boiling yeast and gasoline to see if we could grow carbohydrates from hydrocarbons," Garland said. "Gasoline: what were we thinking? We're lucky that there's any part of Lincoln Hall left."
"Lincolnwood was, and it still is a small village. There was almost nowhere we could go that we wouldn't see someone that our parents knew very well. We went to the school with the same kids from Pre-K all the way to Niles West High School," Garland said. "When someone has known you from Elementary School, they know you very well. It means that when some undeserved honor comes your way, your old Lincolnwood friends fill your inbox–physical and digital– with congratulations. I am lucky to have had such good [friendships] starting right here in Lincolnwood. It's nice to be home."
Current Niles West students that were present at the event felt a connection to Garland.
"It was really cool. I haven't really heard from other people that have gone to Niles West as alumni. I feel a connection to him not only because I live in Lincolnwood but also because he was talking about the Jewish aspect which was cool," junior Lea Bohbot said.
One Niles West alum shared what attending school with Garland was like.
"My sister went to school with him from Lincoln Hall through Niles West. They were in the same graduating class," Alan Wales said. "She told me about how during the Vietnam War, a student giving a speech had the cord pulled on them. While the other kids began to show disrespect, Garland went up and spoke to everyone about First Amendment rights."
While the event proved successful, planning committee member Sokol Delisi revealed what all went into planning the event.
"We came together as a collective group and discussed what we believed represented Lincolnwood School District 74 to the fullest. We were surprised to find out that Judge Merrick Garland was available to come to speak," Delisi said. "It was such an honor for us to have such a great alum to come to speak to not only students but to staff and community members as well."