At the Kore of the Man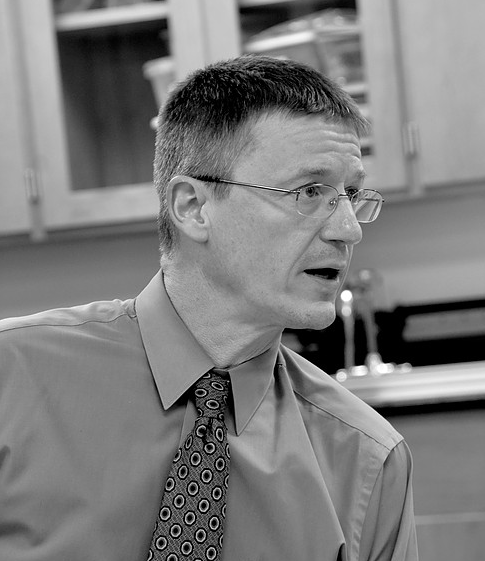 Of all classes offered here at Niles West High School, the AP Physics courses have always had a reputation of one of the, if not the, most challenging courses one can enroll in. However, many of the teaching staff involved in this esteemed program have been here for years, and have certainly proven their credentials. One of these diligent staff members is Mr. Neil Koreman.
Since 2005, Koreman has been leading students to a brighter future not just in regard to the sciences, but life itself. Though he may be self-described as one who doesn't take much interest in interacting with other adults too often, his very personal and engaging interactions with students prove him to be quite a caring and influential human being.
"I love helping young adults gain independence more than I love knowing formulae or crunching numbers," Koreman said.
His students can vouch for this passion as well.
"Mr. Koreman is a great teacher," senior Bismah Fatima said. "He's always checking up on how not just his students are doing, but also those in other classes. He is always there for everyone and cares for every student in the school."
"[Mr. Koreman] is great when it comes to one-on-one interactions with students," senior Michelle Choy said. "Whenever I'd go see him in the Literacy Center, he'd give me questions within a bigger question to help me with my understanding."
Koreman acts on this special skill of his by not just being heavily involved in the science department, but leaping right into the lives of other students as a sponsor for camping club. Students who love the outdoors and are looking to make connections with those who enjoy adventure, risk, and even a few hearty laughs are encouraged to join.
"The camping club had a lock in a couple years ago and we had a pinata in the field house run by a kid who grew up in rural Mexico and actually knew what he was doing, I'm used to the lame little kid parties where all the mommies make sure everybody's taking turns," Koreman reminisced. "So to spin blindfolded teenagers around and let them loose with a broomstick aimed at a target on a rope at 2 in the morning was hilarious. But maybe you had to be there. So join camping club because it's awesome and we have more pudding than you really need."
Outside of the classroom and portable tents, Koreman's love of the sciences persists. He boasts ever-expanding collections of rocks, fossils, feathers, bones, and seed pods. He also collects recipes from random people at grocery stores. When he's not hunting for more collectibles, he's probably at home with his wife of 27 years.
Overall, Neil Koreman is a prime example of applying education to the modern world for not just himself, but the lives of thousands of young people who have attended Niles West High School.
"Physics has immediate applications, from traffic laws to mountain ranges," Koreman said. "When I go camping, I use Physics to start a fire without a match. When I cook, I use Physics to open cans. When I see the stars and the moon, I know a little bit more about them because of Physics."