DECA Season Preview 2018-2019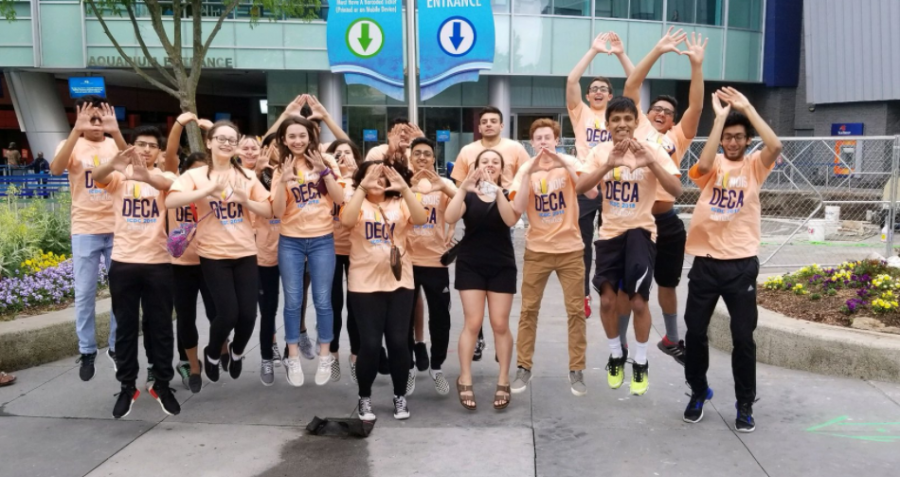 One of Niles West's extremely successful programs is already starting off the school year with big goals and hard work. DECA club has returned and is ready to do better than ever. A program that has been running for 23 years at West is currently filled with a bunch of thriving young minds who are prepared to take this year to the next level.
Sponsor and business education teacher Eric Lueder is looking forward to the work and creativity to be done by the students.
"DECA is a club for students who are interested in business (accounting, finance, marketing, entrepreneurship, management, economics, business law, etc)," Lueder said. "DECA students compete in many different ways, including role plays, written events and tests. There are over 200,000 students in DECA in the country. This years international competition will take place in Orlando, Florida at the end of April for 5 days, 6 nights.  There are approximately 100 students in DECA at West."
Three-year DECA member and junior Ana Urosev knew about the club before she started high school because her brother was in it. She viewed it as an awesome opportunity to follow her big brother's footsteps and doesn't regret her decision one bit. Urosev has high hopes for the program this year.
"I'm so excited for this year overall because we have so many new members and I'm excited to see how they're going to do at their first competitions, as well as seeing how our returning members have grown from prior years," Urosev said. "I believe we're going to do really good this year since we have some members who went to nationals last year and are still on the team now. I hope having that experience will set us apart at state and help us qualify for nationals again."
Students who already see their future leaning towards the business realm choose to join DECA and most of the time stick with it throughout high school. Muhammad Musani, a junior who has been in DECA since his freshman year, joined right away once he was aware of the club.
"I joined DECA because I wanted to get a greater understanding of what business was," Musani said. "DECA gives me the opportunity to not only broaden my connections, but also gain real world business experience. We have a bunch of experienced and inexperienced members on the team this year so we'll be helping each other prepare for competitions. My main goal this year is to make it to nationals."
DECA is ready to take on the year and strictly focus on competing. The student body isn't too familiar with what really goes on in DECA, but one thing everyone has been dying to know is whether DECAlicious is going to continue this year.
"DECAlicious will be selling again this year. We will be selling on Thursdays beginning Sept 20th. Students have to be trained on how to sell and run the business before we can open," Lueder said.