West Parking in Need of Change According to Students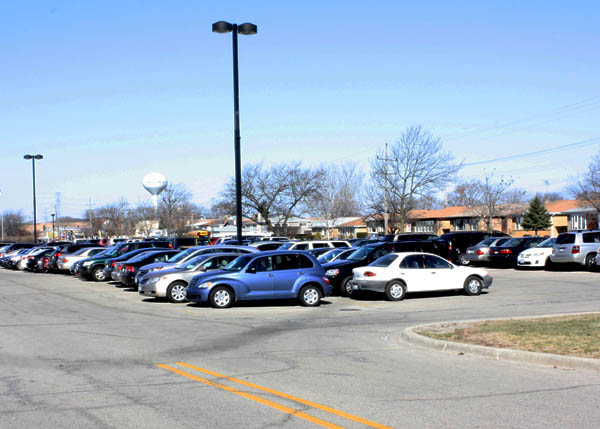 By Sarah Waters, Staff Writer & Copy Editor
September 19, 2018
Here at Niles West, plenty of students want to drive to school, but the limited number of spots makes for contentious debate in terms of their allocation and pricing.
"It's a scam. And parking isn't even that good," senior Eric McLellan said. "If we pay and other people don't we should be getting premium spots, but there are people who don't pay who get [the] first spots. If Niles West dropped its prices, then more people would park there."
According to the Security Office website, year-long parking permits are a staggering $300, with a reduced fee of $240 available to Early Bird–enrolled students. There are 150 parking spaces available, which are distributed on a first-come-first-serve basis, independent of priority for certain students.
Students are required to apply for a space using an online registration form distributed by the district. Applicants must provide proof of a driver's license, insurance and payment of $300. Students parked in the student lot without a pass will be ticketed.
High parking prices aren't unique to Niles West — but West does have the highest prices in the high school area.
Highland Park students pay just $20 per year to park on campus – $280 less than West. Students at Northwestern University in Evanston pay $222 per year, $78 less than the typical student at West. Students attending Maine East, South, and West have an annual fee of just $115. Evanston charges $200. District 14, serving parts of Arlington Heights and Elk Grove Village, posts a $190 fee.
Junior Agata Soltys also sees the need to change the system.
"I feel that parking is too expensive at Niles West. A parking pass amounts to around $300 for a year, $40 for a month, and $3 for a day. The cost of enrollment is $450 dollars, which is extremely close. Because of this, I wouldn't want to purchase a parking pass, and I would be open to purchasing one only if the price went down dramatically," Soltys said.
"I think the prices are too high. Some kids have to drive to school because that is their only sort of transportation since buses don't align with all schedules. Having the buses be free while having to pay so much for parking doesn't make sense and puts a burden on many families who have no other option than having their children drive to school," senior Nadia Firozabadi said. "The school should make the parking passes first-come-first-serve free passes. It allows everyone to have the opportunity to drive to school without the financial burden. There also should be priority parking spots for students with early bird classes because it is sometimes hard to find a parking spot under a strict time limit."
New Trier is infamous for parking problems, as on-campus parking is limited to a fraction of the spots that don't fulfill the high demand. At a school where only 400 students arrive at school via bus, many students are driven to pay nearby homeowners $500 or more to park on their property, resulting in an "underground economy" of student parking. A few even park at nearby gas stations, paying the owners for parking. However, even with these extreme circumstances, on-campus parking passes cost $270 per semester, $30 less than Niles West.
Senior Dylan Chikko also believes the parking system should undergo reforms.
"Parking is expensive enough to the point to where a lot of people at West reconsider whether they even want it or not. I think it'd be less of a hassle to both the district and the people who rely on it for parking if they just made the system a lot more informal than it is now," Chikko said.