Austin Kessem: A Hockey Life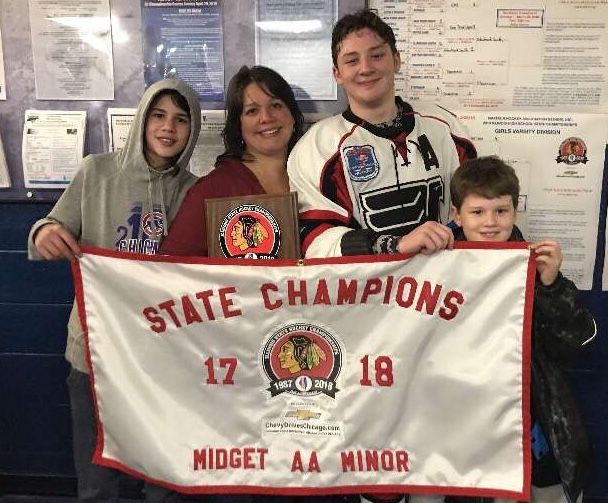 Flying down the ice with his hockey stick in hand and puck under control, senior Austin Kessem dekes out an opponent, waits for an open shot, and fires at the goal. The blaring noise of the goal horn signifies his laser shot as he scores a goal.
Kessem is well known in the senior class as a friendly, hilarious guy who is tons of fun to hang out with. He is also an incredible hockey player who is currently playing for the Highland Park Falcons. He received his first hockey stick when he was just four years old, and from there, the long road of his hockey lifestyle began.
"I started [playing hockey] when I was about four. My parents loved watching the Blackhawks growing up, and they really wanted me to play hockey," Kessem said. "They really influenced me to start playing, and now it's been around thirteen years. I absolutely love it."
Through the years, Kessem has played for many different teams in many different locations. The team he currently plays for won the State title last year and even went to Nationals in New Jersey.
"I've been on three different teams, and there's a lot of new guys this year. Even last year it was a bunch of new guys," Kessem said. "For this year at least, we're hoping to make another state run."
Last year's State matchup in Bensonville that sent the team to Nationals was a very exciting and hard-fought game.
"The team we played at State last year had beat us all three times during the regular season, so we kind of had some really bad experiences with them. We knew that if we came out with our best game and the right mindsets that we could beat them," Kessem said. "It was a back and forth game, and we were down 3-2 in the last period, and we scored a tying goal with a minute and fifteen seconds left. We then won it within twelve seconds in overtime."
Many of Kessem's friends were in attendance at the game, including two of his best friends, seniors Sean Eslick and Shayn Szlak. Neither of them could believe what they saw, and they couldn't have been more proud of Kessem.
"Austin's been playing hockey for as long as I've known him, fourteen years. I went to his state championship game and it was eye-opening," Eslick said. "He scored a goal and they managed to win in overtime. My friends and I were so intrigued by the game and we were so happy to see our friend do something he's good at. I anticipate that he'll be playing hockey for a while after high school."
Szlak notes the feeling of being proud of his friend during his state game.
"Austin's a big guy, so it makes him a really tough hockey player," Szlak said. "Watching his game was amazing and all the boys and I couldn't have been more proud of our friend."
After all the excitement and joy there was to be brought after winning the state title, it was time to get back to work. Kessem and the Falcons were off to New Jersey to compete in the National tournament.
"When we went [to New Jersey], we were guaranteed three games. We ended up winning all three of those games, and we got to play a fourth team. We also won that game, and that put us into the semi-finals," Kessem said. "Unfortunately, we ended up losing that game 2-1. It was some team from Massachusetts and they were really good."
Having to come home not being able to win the National tournament certainly hurt Kessem and his team; however, it isn't stopping their desire to do it all over again this year.
"We start up again at the end of September. I think we're honestly going to have a much better team this year throughout the whole lineup. We're a lot deeper this year, we're not going to have many weaknesses," Kessem said. "The state match-up is going to be around the end of February or beginning of March again, hopefully."