Where Are You Now: Johnny Pabst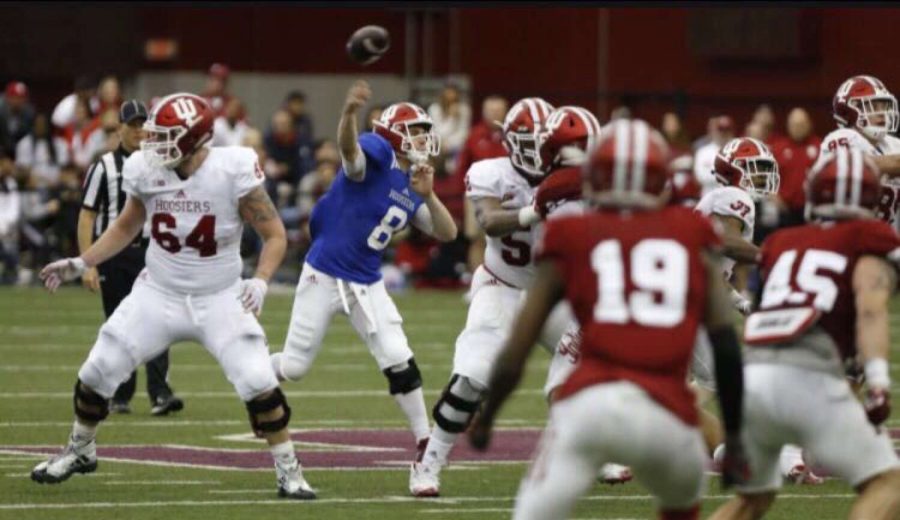 From his incredible high school sports career where he threw numerous touchdowns, scored game-winning baskets, and hit home runs throughout all his four years, Niles West alum Johnny Pabst has left his mark on the athletic program. Although captain of the baseball team and a crucial player in basketball, Pabst stood out most of all under the Friday night lights.
Pabst finished first in the state for passing yards his senior year, ending with 5,100 total passing yards, 38 passing touchdowns, 1,550 rushing yards, and 20 rushing touchdowns. Pabst was also named Esmark All-American and Niles West's Athlete of the Year his senior year for all of his academic and athletic accomplishments. Since then, Pabst has gone on to attend Indiana University to continue his academic and football career as a walk-on.
Football has been with Pabst his whole life and the decision to continue playing was a no-brainer for him.
"Football has impacted my life in many ways. It has helped make me the person I am [today] and I will always be in debt to the game for that," Pabst said. "Playing football gives you the highest of highs and the lowest of lows, but that's exactly how life is. It has given me confidence, taught me how to work hard, and the value of being apart of something bigger than yourself. I'm most thankful for the teammates that I have now and have played with previously, the bonds you make playing such a tough game last a lifetime."
Former teammate, cousin, and fellow alum Matt Galanopoulos is proud of his cousin and his friend and acknowledges that playing without him wouldn't be the same.
"The biggest change was knowing that I was going to have to build trust with new teammates first and second with a new quarterback who could potentially be from anywhere in the country," Galanopoulos said. "You have to start from scratch whereas in high school we had 18 years of chemistry from all the sports we played together over [the course of] our lives. Going from trusting your cousin to a complete stranger is hard but can definitely be done by spending more time with each other."
Pabst has also left a mark on his younger brother, junior Andrew Pabst, who uses his older brother as inspiration and a helping hand to get where he wants to go.
"It's cool having a brother play in college because I get to see what a major college program is like and what it takes to get there," Pabst said. "He's impacted me because it's always been a friendly competition of who can be better. It's also showed me what it takes to make it into his position and that has helped me because I know I can work as hard as he did to get where I want to go in basketball."
The second season of Pabst's college football career has started, and he's currently the third-string walk-on quarterback for Indiana University.
"It's exciting after working so hard for such a long time. To even get to this point and have the chance to play in the Big Ten [Conference] is something very few people have the chance to do," Pabst said. "Regardless, we're off to a great start and are looking forward to winning more games throughout the year."