The Physics Behind Anthony Comstock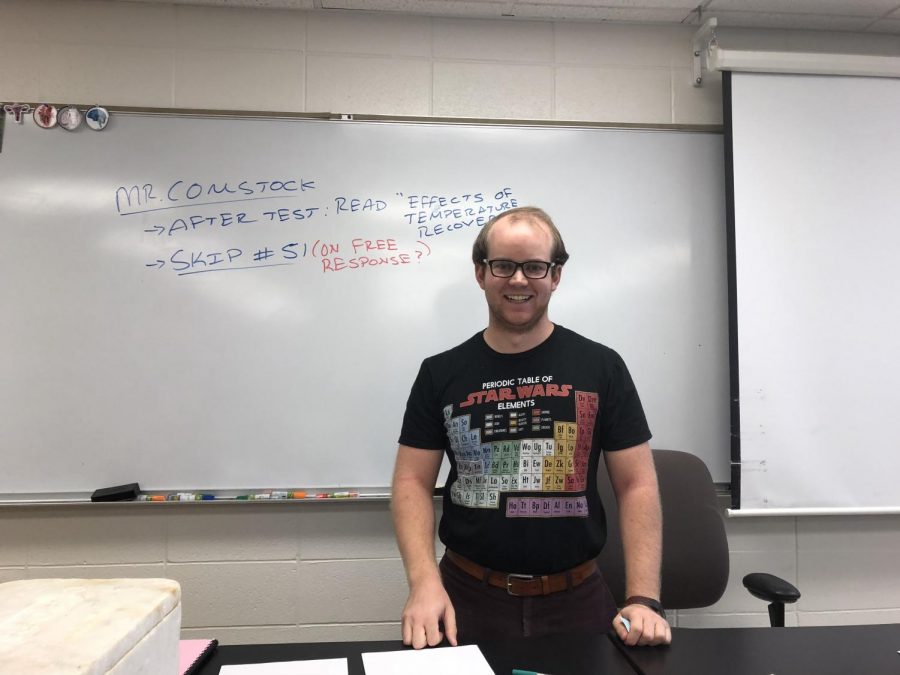 The science department here at Niles West High School is flooded with many talented educational instructors who have worked many years to earn their rank and authority title here at West, especially the Physics teachers. The names of Koreman, Lietz, Metzler, and others may ring a deafening bell for many students. But one of the most unique talents in charge of gifting students with an academically sound future in regards to Physics is Mr. Anthony Comstock.
In his three years as a Physics instructor here at West, he has surely made a reputation among staff and faculty like no other.
"In Mr. Comstock's class, I never feel like I'm being taught. I am learning, but it isn't the tedious kind of learning most high school students are used to," junior EllaRose Winston said. "Mr. Comstock is a great teacher, his class is super fun, and always flies by."
Winston's fellow classmate junior Petra Barbur also offered her insight on the man and the classroom atmosphere.
"Mr. Comstock's class is a very high energy class. We get to interact with one another and learn at the same time. There's never a boring day of learning in the physics classroom. I never thought science class could be this fun!" she said.
From a young age, Comstock has always valued education and a strong work ethic. In addition to studying hard in his physics classes in high school, he also played football and lacrosse all four years at Fremd High School. This background led him into the position he holds today.
"When I was in high school, physics jumped out to me as a different type of learning," Comstock said. "It was a more physical class in that we were a lot more active. It was a more applicable class to the real world. With that physicality and application component, we were able to learn a lot about problem-solving, and actually see the connections to our every day lives. So that was something that really jumped out to me that I really enjoyed."
Comstock also makes sure to heavily involve himself in the school outside of the classroom. The last two years, he's jumped on board with social studies teacher Lauren Flahive and math teacher Karrissa Moy on Dance Marathon. He has also helped out with HOSA (Health Occupational Students of America), where he traveled with the students to nationals in Dallas last summer.
Though he may be quite passionate about the science for the physical world, he might have just as much, if not more, love for the school he is employed at itself.
"The administration [of Niles West] is very open and receptive to ideas, and there are good lines of communication between all the parties that are involved," he said. "But I believe the greatest strength here is the students. They all bring a lot to the table in terms of personalities, backgrounds, languages, cultures, and religions that it makes for an absolutely incredibly diverse school. I think it is a blessing to the students here that this school is so diverse. They are able to see people of every background, which is what the real world is like. They are able to experience a lot more while still in a high school setting, as opposed to just being thrown out into the real world to figure it out on their own."