The Rap God vs. The Rap Devil: Feud Between Eminem and MGK Sparks Major Media Controversy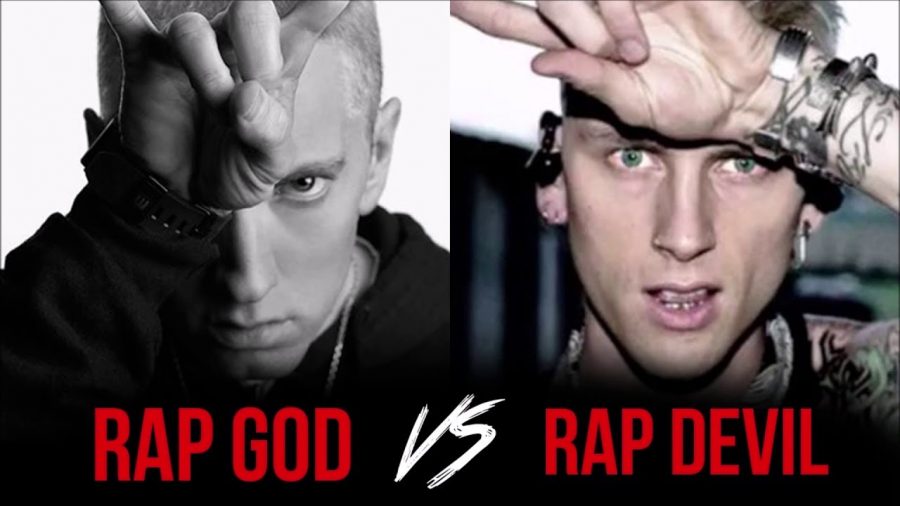 These last two weeks have been one for the books in the hip-hop community. Cardi B and Nicki Minaj engaged in a physical altercation Friday at New York Fashion Week, veteran Kanye West and 18-year-old Lil Pump dropped an outrageous collaboration on a new single "I Love It" this past Saturday, and rap listeners all around the globe were stunned and heartbroken when Mac Miller passed away from a drug overdose on the same day.
However, kicking off all this madness was the one and only Marshall Mathers, A.K.A. Eminem, regarded by some as the greatest hip hop artist to ever pick up a microphone. On August 31, his surprise album "Kamikaze" took the world by storm as the veteran emcee lay waste to the biggest names in the rap game right now. Drake, Chance The Rapper, Tyler The Creator, Lil Pump, Lil Yachty, and Migos are just a portion of the rappers called out in Em's aggressively barbaric project. But of all the war cries Em spits on "Kamikaze," his attack on Cleveland emcee Machine Gun Kelly was by far the most publicized. Where Drake, Migos, etc. all surrendered at the sound of the master lyricist taunting them, MGK made no hesitation to fight back.
The tension between Eminem and MGK was birthed all the way back in 2012, when MGK posted this comment on Twitter regarding Eminem's daughter, who was 16 years old at the time: "Okay, so I just saw a picture of Eminem's daughter…and I have to say, she is hot as f***, in the most respectful way possible, 'cause Em is king."
Way to save yourself at the end there, Kelly.
The six-year gap didn't stop Eminem from dedicating an entire verse to Kelly on his eighth track on "Kamikaze", titled "Not Alike" to dissing MGK. In this verse, Slim Shady says, "If you wanna come at me with a sub, Machine Gun, and I'm talkin' to you, but you already know who the f*** you are, Kelly. I don't use sublims, and sure as f*** don't sneak diss, but keep commenting on my daughter, Hailie."
Three days later, MGK dropped a song and music video titled, "Rap Devil," a play on Eminem's 2013 hit "Rap God." In this track, Kelly holds back nothing in his exposure of the Rap God himself. MGK strips Eminem's entire career apart piece by piece, leaving no stone unturned, with lyrics like, "We know you get nervous, Rabbit. I see Momma's spaghetti all over your sweater. I wish you would lose yourself on the records that you made a decade ago, they were better." As of September 11, MGK's "Rap Devil" has accumulated over 60 million views on YouTube.
Though Eminem has made no official response to MGK's lyrical atomic bomb, this feud is not expected to die out any time soon after such a career homicide. Maybe one of the other rappers Eminem called out will even drop their own unique version of "Rap Devil." All that's for sure is that Eminem isn't going to have a lot of friends left in the rap game after this storm subsides. At the end of it all, MGK said it best in "Rap Devil": "Mad about something I said in 2012, took you six years and a surprise album just to come with a diss. Homie, we get it, we know that you're the greatest rapper alive. F*****' dweeb, all you do is read the dictionary and stay inside. F*** Rap God, I'm the Rap Devil, comin' bare-faced with a black shovel. Like the Armageddon when the smoke settle, his body next to this instrumental."