Fall Sports Preview
By Nick Goldwyn
September 19, 2010
Go Big Red! School has started, and so have all of the fall sports. Football, Girls' Volleyball, Girls' Swimming and Diving, Boys' and Girls' Cross Country, Boys' Soccer, and Golf are all in full swing. All of our teams have either started the season strong or are showing signs that they will pick it up later in the year. Support our teams, show your school pride by wearing red every Friday, paint your face red at sporting events (I did, it stings a little but it's a good pain), and get ready for an incredible fall season in Niles West sports.
Football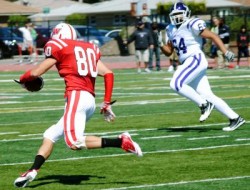 What good can possibly come out of a 45-0 loss to Vernon Hills in the first game of our 2010 Football season?
As varsity coach Scott Baum put it, "at least it's our first game and not our last." Another positive outcome to come after losing to our rival North: the team is eager to turn it around.
Improvement. A word left out by many coaches interviewed for this story, but a word stressed by Baum. He knows West won't win State this year, so what he would like to see is the team's overall improvement.
"We want to get better, week in and week out, we want to see improvement," he said. And although the scoreboard hasn't said it (we've lost three of our first four games), the team is showing signs of what Baum strives for. The varsity team, behind seniors Santiago Ochoa, a force on both offense and defense; Mike Leftakes, a great lineman; Seve Loubriel, our uplifting quarterback; and junior Lavelle Jordan, whose speed with a football is incomparable; are not only showing signs of improvement, but they are developing into a team capable of going on a roll to end the season.
It will be tough to beat our next couple of opponents: we face Maine South (former #1 and State champions of 2009) and New Trier (where all students excel at sports) in the next couple of weeks.
But as Baum said about Maine South, "they can be beaten."
If we do catch fire and get a winning streak going in the next couple of weeks, it will be awesome, a little unexpected, and a tell-tale sign of our continued improvement, and the team's determination to turn the season around.
Girls' Volleyball
Think about the word chemistry for a second. What are you thinking about? Are you picturing people in white lab coats stirring beakers, or are you thinking about exploding liquids, or maybe the periodic table has popped into your head? When talking about chemistry in regards to science, those things are all perfectly logical to think about, but when talking Girls' Volleyball, chemistry is an entirely different subject.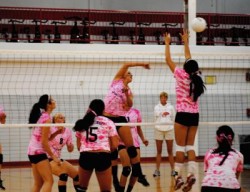 The Girls' team has great chemistry, simple as that, according to senior Jordyn Toia. They have bonded through drills and workouts, and have grown to become one cohesive unit on the court. They work well as a team. It isn't a stretch to say that they are one of the best volleyball teams ever to take the court for the Wolves.
"This groups is better than any other team I've ever played on because we are so in sync," Toia said.
Led by senior stars Toia and Olga Kukowska, the girls are looking to not only win Conference, but to meet the 20-win goal they made at the beginning of the season. Varsity coach Stacy Metoyer would love to see her team get to 20 wins or take conference, but all she really wants is for her team to do the best they can.
"They are all talented and my hope for them is to be their best," she said.
And with the chemistry this team has, their best may just be good enough for a Conference title and a 20-win season.
Golf
If you play golf frequently enough, every once in a while you hit a shot that actually looks like it will end up where you aimed. Well, that's not only the best a golfer can hope for, it's also one of the best feelings in all of sports. In a metaphorical sense, that is where the Niles West golf team is right now. With a solid core molded around junior team leader Nick Hester and freshman Nathaniel Lee (the strongest player on the team), the Golf team looks poised to finish near the top in a very strong Golf Conference.
"It's no cake walk," says coach Mitch Stern, about a division in which both the best player in State, Benjamin Jaklin, a senior from Deerfield High, and the best team, New Trier, reside.
What's even better than being in the top of our Conference this year? Contending for a Conference title next year. With this being a fairly young team, almost all of the athletes will be back the following year to compete (with the exception of seniors Claudia Mak and Jason Kaatz).  Back with Hester and Lee on varsity next year will be juniors John Sullivan, Matt Crawford, David Lotsof, Steven Czajkowski, Bobby Yarmahmoudi, and promising newcomers Jacob Malina and Brandon Moy.
Boys' Soccer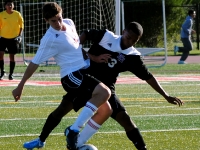 In place of height and weight on the  Boys' varsity Soccer team roster,  is a space for "favorite super hero."
"It was done as a joke," said varsity coach Scott Ackman. "Don't worry about it, we just didn't want to put height and weight, so we put super hero."
The Soccer team has gotten off to an incredible start so far this season, winning two of its first three games, and tying the third. The amazing start to the season has not been a surprise judging by the fact that a good portion of our varsity team is back from last year, including senior star Thomas Villamil. In the first three games, Thomas made three goals, one with 11 seconds left, to win the game, and has one assist to senior Joe Rashid, for another game winning goal with 34 seconds left.
With a strong supporting cast of players including returning varsity players juniors Eric Lopez and Michael Tabar, and stars like Villamil and Rashid, the team looks to compete for a Conference title this year.  And if Villamil keeps playing the way he has been, not only will we be adding another Soccer trophy to the case, but next year there may be a new favorite super hero on the list Niles West Soccer Man.
Girls' Swimming/Diving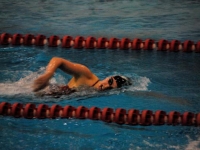 On the wall next to the pool, about ten feet off the ground is the record board for all swimmers and divers. One side holds school records, the other, state records. Senior Alexis Yusim would like her name to be on it, in as many places as it can be. Yusim is again on the varsity Girls' Swim and Dive team, and along with her fellow returning senior swimmers Jaci Moy and Holly Norberg, she wants to once more get her name up there on the board over the pool.
Along with Yusim, Moy, and Norberg on varsity this year are returning seniors DeAnn Okrzesik, Emma Capps, Heather Funai, Emily Fung; juniors Emme Deamont, Emina Djelovic, Zoe Antonow, Kristen Fasano Jenny Marin; freshmen Valerie Fung, Estee Cramer, Edan Scott; and sophomore Nicholle Fourkas.
Varsity coach Jason Macejak says they will make the Wolves "more competitive this year, especially at some of our invites."
Will the Wolves win the Division this year? That will be determined later on in the season, but if Yusim or other girls' swimmers get their names onto the State record side of the board this year, then the lady Wolves might have a pretty good shot at it.
Girls' Tennis
The Niles West varsity girls' tennis team is ready to have one of their best seasons in years. Coach George Bravos has set high goals for his team and their matches ahead.
"We want our girls to be better than they initially started from their first game." Not only does Coach Bravos expect the best out of his returning players, but also from the new players he is hoping to include in his team. "We are looking for a solid team effort from all the players," he said.
From last year's varsity team, six seniors graduated. The starting roster for this year includes seniors: Rita Chiu, Eunice Hong, Neha Jain, Kara Mui, Ploy Paungsombat, Jessie Wengerski, Jamie Zouras, Madeleine Schmidt; juniors: Ricki Esses, Vicky Georgevich, Lexi Leftakes, Peggy Cabal; sophmore Alexa Bits; and freshman Kristine Park.
At their first match, played on Monday August 23, against Schaumburg, they won 6-1. Last  week the girls won two matches, one against Maine West 5-2, and another against Resurrection 4-3,which set their overall record at 3-3. This season the team has also placed third in the Niles West Tennis Invitational, and finished fourth in the Buffalo Grove tournament.
Boys Cross Country
As the year continues to roll on, the Boys Cross Country team aims for victory in their upcoming meet. Just beginning to heat up, entering the season the boys have a meet on Tuesday, September  28th at Niles West, both junior varsity and varsity will participate, and will start at 4:30 pm.
Varsity Coach Vachee Loughran hopes for the best for the boys' season. "I want to have the team repeat their success from last year; where the team qualified for sectionals," he said.
Loughran has been coaching cross country for eleven years, and this year he has the help of assistant head coach Erik Kaiser.
Representing the Niles West Boys Cross Country will be senior Zachary Koukios; juniors: Marc-Daniel Julien, Blake Helton, Masafumi Hoshi, David Iverson, Daniel Melnick,Paul Mis, Neal Omar and Seungyong Park; sophmores: Cedrick Calalay, Yandiel Cardenas, Joseph Cohen, Chadane Gordon, Charles Jacobs, Jason Lupas, John Maku, Ryan Mathew, Nathaniel Schapmann, Christian Vega, Kubrat Vrachanski and George Webb; and freshman Nicholas Vickers.
"Not only do I want to try and win conference, but I also want to get as many freshmen possible to help grow the team," coach Loughran said.
Nikki George and Rozy Kanjee contributed to this story.