Niles West Earns "America's Best High Schools" Rank
By Rozy Kanjee
September 22, 2010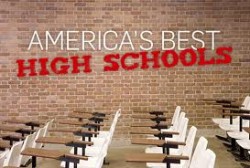 Niles West has many things of which to be proud. On top of its already bulky list, Newsweek has deemed it one of "America's Best High Schools!"
West is #1622 on its list. It may not seem like a good number, but we are in the top six percent of the best public high schools across America. Newsweek chose high schools based off the staffs that challenge students and prepare them entirely for college through AP courses and more.
"We deserve the recognition, our community puts in a lot of work and supports us," says Principal Kaine Osburn. "Our curriculum offers a rich, rewarding opportunity for every kid that walks through the doors."
The staff puts in tireless hours to help students reach their goal. They are there before and after school as well as any time a student makes an appointment. West teachers offer their experience with each one of their students for the highest possible education, according to Osburn.
In order for West to further students' knowledge, the administration has taken many steps, says Osburn. The Anywhere Anytime Learning program began this fall, providing every freshmen their own netbook; the fine arts department is number one in the state; the literacy center is nationally ranked; and; West is also recognized for its STEM lab and individual research.
The schools' curriculum is based off of Board Goal 2, which is to provide a rigorous curriculum to prepare all students for college. Each student comes into the school with the goal of succeeding through the courses offered at here at West, Osburn said.
"What's great about the school is it provides opportunity to people with different backgrounds, culturally as well as socioeconomically," says Osburn.
Students are offered a variety of courses from AP to individual learning. Every student gets the best and learns how to be ready for college whether or not they plan to attend, he said.