Cats Have Nine Lives: Tiger Woods Makes a Comeback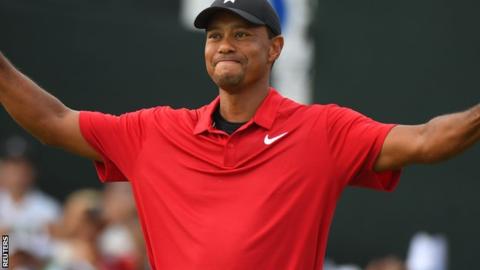 Five years after his last professional victory, less than two years after his last back surgery, and 16 months after his mug shot was posted for the world to see, professional golfer, Tiger Woods did exactly what no one in the world thought he could do again: win another PGA championship.
Last Sunday, Sept. 23, 2018, Woods finished his final round with a score of +1 bringing his overall to -11 putting him in first for the Tour Championship beating runner-up Billy Horschel by 3 strokes. Tiger's comeback after being ranked #1,199 last year is one of the greatest in sports history, and he showed that anything can be achieved.
"It was a grind out there," Woods said. "I loved every bit of it. The fight and the grind in tough conditions and just had to suck it up and hit shots, and I loved every bit of it."
On top of a remarkable career comeback, this was also Woods' 80th professional win, putting him 2 behind the number one leader, and he's still only 48 with many tournaments left to play.
"80 is a big number. I've been sitting on 75 for about 5 years now, and to get 80 is a pretty damned good feeling."
Seeing Woods win again was something that more than a few people thought would never happen again and seeing him fight back and win this tournament was very emotional for some people including his friends and his biggest fans.
"He made me cry, but I couldn't be more proud of him, a true champion in every sense of the world," Woods' lifelong friend,  Rob McNamara said.
Tiger Woods has inspired countless people in the game of golf. Other professional golfers he inspired to play are now playing against him like Rory McIlroy and many others. Woods still inspires more and more people not just to play golf, but to never give up on anything that they do.
"To see him winning the tour championship was huge and an emotional moment to anyone who loves the game of golf," Senior Evan Han said. "It was probably the most exciting thing to watch his lead grow on Saturday and when Sunday came around, you could feel the confidence he had and it motivates me to play just like that."
The 2018 Rider Cup begins this Friday in France and you'll be able to watch Woods play for team U.S.A. after his historical 80th win last Sunday. Woods will play in many more tournaments throughout the year to try and pursue his total victories to 81 and even more.