"A Star Is Born" – Already An Oscar Contender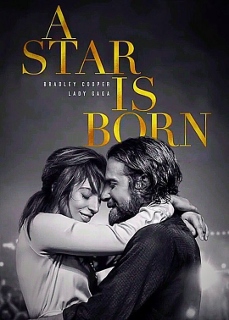 Bradley Cooper's directorial debut film, A Star Is Born had its premiere at the 75th Venice Film Festival and it's theatrical release this past weekend. The film focuses on the relationship between singers Jackson Maine, played by Cooper, and Ally, played by Lady Gaga, as they tackle both the music world and Jackson's addiction to alcohol and drugs. This was Gaga's first major movie role. Janet Gaynor, Barbra Streisand, and Judy Garland have all previously played the role, although their character's name was Esther. Gaynor and Garland received a Best Actress nomination for their roles, and Streisand won an Oscar for Best Original Song for "Evergreen."
Being the fourth installment in the franchise, and having an amazing track record both at the Academy Awards and the box office, the film was no small feat for Cooper. Although Cooper is an acclaimed actor for his famous roles in The Hangover, American Sniper, and Silver Linings Playbook, he had not directed prior to the film but was set on having A Star Is Born as his first. In addition to starring, directing, and co-writing the script, he also helped cast it. Cooper had to convince Warner Brothers Studios that Gaga was the right actress to take on the role of Ally after seeing her perform Edith Piaf's "La Vie En Rose" at a cancer benefit. Gaga had to audition with several screen tests before she landed the role.
The film was successful, despite the small plot holes in the film that worked out because of "movie magic." The cinematography, done by Matthew Libatique (who also did Venom) was smart and effective. There were parts of the film that had a documentary filming style which included shaky camera work and long takes following the subject, which were used in raw moments, and let the audience feel closer to the characters in already high-emotion scenes. Although the whole film wasn't shot like that, the remaining shots skillfully combined a variety of different points of view, angles, and lighting. The lighting complemented the simple production design and gave it the depth and awe it needed.
Despite running the show, Cooper still managed to give a stellar performance. His accent, although hard to understand and hear in certain moments of the film, is consistent. Cooper wholeheartedly embraced the character, even learning to lower his voice a whole octave in order to sound as authentic as possible. Gaga's singing was amazing, as was expected. Her acting was full of emotion and grit, but there wasn't a moment where I wasn't aware of who she really was. Even though Gaga didn't make me truly believe that Ally existed, her performance was impressive and at times overshadowed Cooper.
Although the Academy Awards are still about five months away,  A Star Is Born is a sure contender to be at least a nominee for Best Picture, Best Actor, Best Actress, Best Director, Best Cinematography, and/or Best Original Song. The film is worth the price of the ticket alone to see the performances, but as well as the plot overall, the soundtrack, and the cinematography. If you want to fit in during awards season, make sure to see this film, because this won't be the last time you hear about it.