Powder Puff Post Game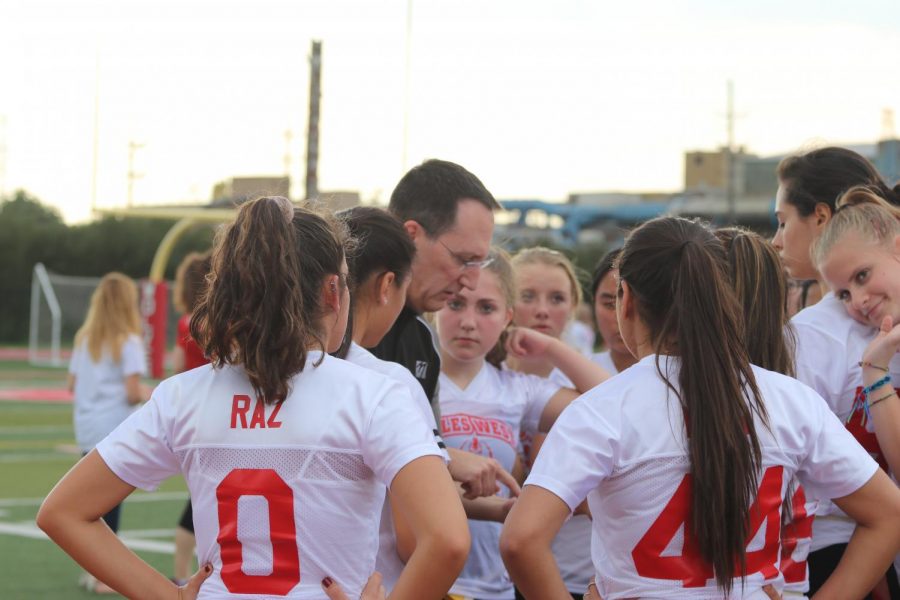 On Tuesday, Oct. 9, Niles West hosted the annual Homecoming Powder Puff game out on the varsity football field. Powder Puff consists of two teams split between the freshmen, sophomores, juniors, and seniors, for girls to compete in a flag football game. This year, along with many in the past, was extremely successful and definitely one to remember.
One of the teams was the freshman and seniors against the sophomores and juniors. For junior Kristi Bliznakov, she thoroughly enjoyed this year's game and playing with a new group of girls.
"I had a really fun time playing. Although we lost, I still enjoyed running down the field with the ball. We have so many fun things for spirit week in honor of Powder Puff. Since homecoming is mainly about the boys football game, why not create a game that is beneficial for the girls," Bliznakov said.
The division of teams between grade levels created excellent competition. Along with Bliznakov, teammate and fellow junior Angela Razo agreed that the game full of competitive edge and focus.
"Powder Puff is really fun every year. It's a great time to just get together with a great group of girls and be active. It's also really nice to feel included and get competitive with each other. The hype with homecoming is always directed towards the football team and the homecoming dance, so I really liked having a fun crowd come out and continue the spirit week leading up to the dance," Razo said.
As Powder Puff has been an ongoing tradition, Niles West faculty looks forward to the game every year. For Assistant Principal Mark Rigby, his duty of being a referee is something he looks forward too as soon as the school year starts. Rigby boasted that this year, along with many others, was extremely enjoyable and one to remember.
"I think it's always a great event regardless of the score. This year, although the sophomores and juniors came out on the losing end, it was great to see them keep competing until the end. Both teams did great," Rigby said. "I like being involved with students in situations outside the normal school day. It's a whole new environment and it's really fun."
For anyone not in attendance, the freshmen and seniors were the winning team in the end. Both teams played extremely hard, competed at the best of their ability, and had loads of fun. This year along with many was one for the books. Be sure to mark it down in your calendar as the ladies will take the turf next year.