Niles West German Exchange in Review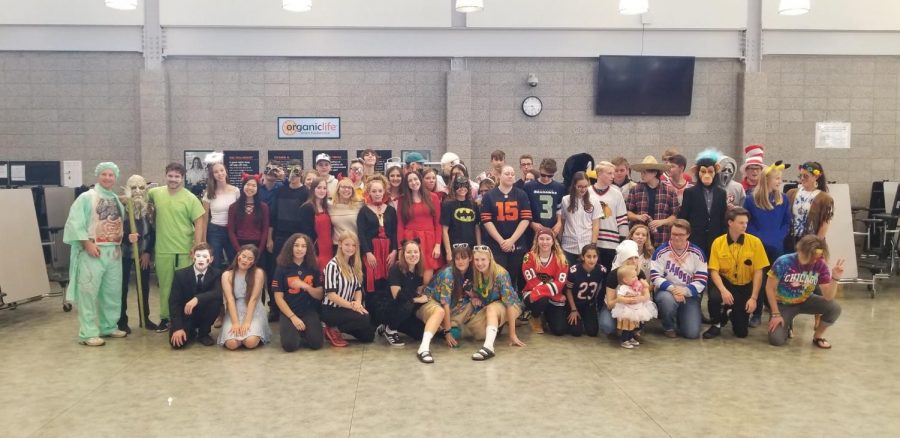 The annual German-American Exchange with students from the Schönborn-Gymnasium Bruchsal recently came to an end. The exchange students, affectionately referred to as "the Germans" by their American counterparts, were able to experience a variety of American traditions throughout their stay.
One of the main American customs the German students were able to experience was the homecoming dance, of which there is truly nothing comparable in Germany. Senior Anna Darville, who hosted a German student, believes experiencing homecoming was unforgettable event for the students.
"I think that homecoming was definitely different than dances or similar events they have in Germany," Darville said. "My exchange student said that it was very interesting how everyone was piled right by the stage or spread out by the gym, she said usually in Germany parties are more spread out than everyone jumping on top of each other. She thought it was fun and that the music was good and, and just had a good time."
Last week Monday the German students followed their Niles West students' schedules, which highlighted many of the differences between the German and American education systems for the German students.
According to German exchange student Linus Wolf, a big difference he noticed the biggest difference between his school and Niles West is the types of classes people can take.
"In Germany, we don't have that many different classes, we just have the usual ones. Here there are many different ones like Adventure Education and cooking, and all that kind of stuff," Wolf said.
One of the key differences between Niles West and Schönborn is the sizes and amenities of the schools.
"They thought our school was huge and that it was really cool," Darville said. "My exchange student, Christine, thought the weight room we have was amazing, because in Germany she said they have a closet of some balls and sports equipment, but nothing like the weight room."
APES teacher Susan Schram had two exchange students in her early bird class, and believes having them was a great experience for herself and other students.
"My favorite thing about it is having somebody from another country representing their culture and being exposed to my seniors, and being able to ask questions," Schram said. "I just so enjoy having them come and experience an American type course and practicing my German with them, I didn't take any German but I pretended that I did.  Just how excited they are when they come into the classroom, and they're typically the only one's paying attention to me when I am talking in class."
Throughout the rest of the week, the German exchange students explored various aspects of downtown Chicago, visited the Northwestern campus, and had a Skokie day where they met the mayor and got a tour of the whole village.
For German-exchange student Laurin Rittershofer, going downtown to the Hancock Tower was a definite highlight of the trip.
"Going to the Hancock tower in downtown was really cool, the food was very nice and the view from the top was incredible," Rittershofer said.
German teacher Josef Neumayer has been facilitating the exchange for the past 14 years and believes the exchange is beneficial for both the American and German students.
"I think it's very important that we are able to connect with other people on a personal level and to have the opportunity to host a student from across the world is amazing, that we can share how we live and what's important to us, our virtues, our values," Neumayer said. "For them, it's absolutely amazing, America is just such a big to the Europeans and they follow what do in sports, they watch our films, and listen to our music, so for them to have the opportunity to come here is amazing."
Niles West students will be going to Germany next June and will stay with the German students as they travel around the surrounding area. Senior Grace Hyman is excited to reciprocate the exchange and looks forward to experiencing a way of life different from hers.
"I definitely want to try new foods and just seeing their way of life," Hyman said. 'Their towns are so much smaller, my exchange student's town has about 800 people, and Skokie has like 60,000, so it's a just a big reality change. A lot of the Germans told me how different America was from Germany, so that kind of made me even more excited for a change in lifestyle."