Hungry Like the Wolf: Sicilian Pizza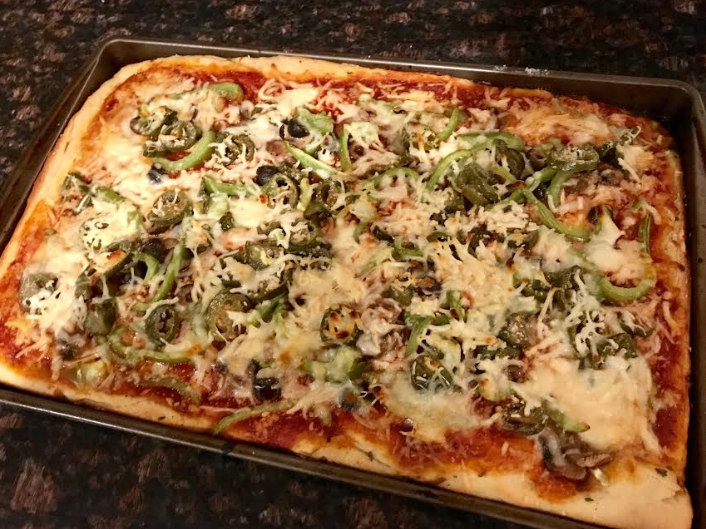 Pizza pizza pizza, who doesn't love pizza! If you're feeling adventurous, I recommend you try Sicilian pizza.
Unlike your everyday circular pizza, a Sicilian pizza takes a rectangular shape and consists of oiled dough that is spread out on a baking sheet and slathered with layers of cheese and sauce.
Although it's a bit more complicated to make, follow these simple tips and you'll have Sicilian pizza in no time!
Be Patient. If you're hungry and looking for a quick meal then, you're out of luck. Sicilian pizza requires many steps. You have to make the dough, let it rise for an hour, make the sauce, gather your toppings, spread the dough, let it rise again, and so on. But trust me, it's worth it.
Let your sauce simmer. I recommend starting your sauce right after you set your dough to rise for the first time. The more you let your marinara simmer, the flavor from the oregano and seasoning will infuse with the tomatoes. The sauce will also thicken.
Make sure to spread out your dough. After your dough rises for the first time and you turn it over onto your baking sheet/tray, you want to make sure you oil your hands and push out the dough to all corners of the pan. It may seem tedious at first because the dough will naturally plop back into shape when stretched, but just be patient and massage the dough. Once it's spread out to cover all corners of the tray, leave it to rise again, layer, and it's ready to bake!
Order matters. Once you're ready to layer your dough, start off with sauce, then mozzarella slices, sauce, toppings, and more mozzarella. This way the sauce at the bottom won't dry out since there is another layer on top of the cheese. The toppings will stay visible since they're right under your final coating of cheese.
Sicilian Pizza:
Pizza Dough
3 1/2 cups bread flour
1 tablespoon salt
1 1/2 cup lukewarm water
1 1/4 teaspoon active dry yeast
1 teaspoon sugar
2 tablespoons olive oil
The Sauce
1 yellow onion, diced
3 garlic cloves, minced
1 tablespoon olive oil
1 teaspoon oregano
1 teaspoon red pepper flakes
1 24 ounce can tomato puree or diced tomatoes
1/2 cup water
salt and pepper to taste
Assembly
1/4 cup olive oil
1 cup shredded mozzarella
8 slices mozzarella
1/2 cup grated Parmesan
Toppings of choice (bell peppers, mushrooms, jalapenos, etc)
Optional: 1/2 teaspoon garlic powder, 1/2 teaspoon parsley flakes
In a measuring cup with the lukewarm water, add yeast and sugar and stir. Let sit for 5 minutes until the mixture is foamy.
In the bowl of a stand mixer or a large bowl, add bread flour and salt. Mix. Create a well in the center of the dry ingredients, pour in yeast mixture and tablespoons of olive oil.
Knead until a smooth dough ball has formed. Place in an oiled bowl, cover with plastic wrap, and let pizza dough rise in a warm environment for 1 hour or overnight.
Meanwhile, in a saucepan or medium heat, add olive oil, onion, and garlic. Saute for about a minute. Add oregano and pepper flakes and saute until translucent and fragrant.
Once translucent, add tomatoes and water to the pan, stir, and let simmer at low heat for about an hour. If you are using diced tomatoes instead of pureed, use a hand blender (immersion blender) to pulse your tomato chunks until have smooth. Season with salt and pepper once your sauce is finished.
Optional: add garlic powder and parsley to olive oil for an herb crust. On a 13 by 18 inch rimmed baking sheet, add your 1/4 cup olive oil and spread around the tray, this way the dough won't stick. Roll out your risen dough on the tray and flatten it out with your hand until the dough reaches all corners of the sheet. Let sit for 15-20 minutes.
While that sits, preheat your oven to 450 degrees Fahrenheit and chop up and prepare any toppings you may have. I'm adding bell peppers, mushrooms, olives, and jalapenos to my pizza.
Scoop a couple of tablespoons of your sauce onto your pizza dough and spread out with a spoon. Then, layer mozzarella cheese slices on top of your sauce until the whole pizza is covered. Add more sauce on top of the cheese slices, top with toppings of your choice, and finally cover the whole thing with shredded mozzarella and grated Parmesan.
Bake in a preheated oven for 15 minutes or until pizza is golden brown at the sides and bottom. Cool, cut, and serve!
Note: In the recipe video I ran out of mozzarella square slices so I covered the first cheese layer with some shredded mozzarella as well. Also, you could divide the dough into two pieces and make two separate pizzas on two 11 by 17-inch baking trays.