Painting in Minds and Nails: Sara Nowaya
While most teenage girls spend an hour picking out the "right" color and shape at the nearest nail salon, senior Sara Nowaya devotes an hour to designing her own unique gel-manicure sets at home. From decorating with rhinestones and sparkles to painting classically elegant designs, nail art provides a sense of tranquility for Nowaya during her last two stressful years of high school.
"I used to love art in middle school, but I kind of fell out of it because of all the things I needed to focus on in high school. So, when I got into nail art I felt like I found my way back to one of the things that made me happiest in life," Nowaya said.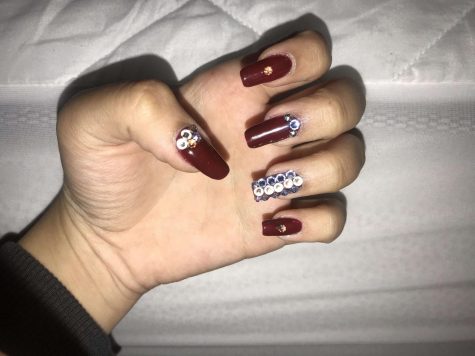 Throughout her childhood, Nowaya spent much of her time painting and drawing landscape sceneries. Focusing on themes of nature, she often used colorful tones to illustrate warm sunsets and fields of flowers. Nowaya's talent was even recognized at a local museum where one of her paintings was displayed when she was in only fifth-grade. Unfortunately, like most high schoolers, she found herself overwhelmed with an obscene amount of homework and responsibilities that she no longer had the time or the motivation to paint or draw.
However, as sophomore year rolled around, Nowaya began to explore what would soon become a new subject of interest: psychology. Like most sophomores, Nowaya took Psychology to fulfill her social studies credit while still being intrigued in class every day.
"I can see based on her understanding of herself and her growth in high school, I can see her wanting to be there to help others in her career," counselor Benjamin Grais said.
Although she's dedicated to studying psychology for as many years as it takes, Nowaya never lost her artistic touch and is actively pursuing her new passion for nail art and design as well. Growing tired of the constant need to get her acrylics refilled at the salon, accompanied with the high costs, Nowaya began experimenting on her own nails towards the end of her sophomore year.  
Starting off with short, bitten, and damaged nails, Nowaya took time after school to watch youtube tutorials and learn to take care of her nails. After months of filing and buffing her own nails into the perfect shape, Nowaya took on the challenge of painting and designing her friends' nails too.
"She's such a kind-hearted and talented girl and I appreciate her even more since she does my nails every 3-weeks," senior Megan Warda said.
"Whenever I'm doing other people's nails, I just go with the flow based on whether they want a design or not. I go through the process of helping them choose crystals or rhinestones based on colors they would like. It's basically a form of art to me because it allows me to express my creativity while still helping other people express their own too," Nowaya said.
Now in her last year of high school, Nowaya is hopeful for a future doing what she loves the most: helping others. Whether it be helping those through psychology or simply helping others bring out their creativity through nail art, Nowaya is excited and determined to juggle both.