Q & A with Yankee's Pitcher, George Kontos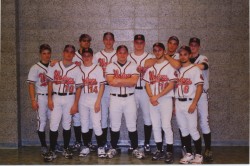 The NWN had the chance to talk with New York Yankees pitcher George Kontos, who graduated from Niles West in 2003 and was recently called up to pitch for the Yankees.
NWN: How does it feel to be called up to play for the Yankees?
Kontos: It's an amazing feeling to be called up by the Yankees. I'm very glad and excited that my first experience in the major leagues is with not only the organization that I was drafted by, but also one that has so much history surrounding it.
NWN: Are you a starter or a reliever pitcher?
Kontos: I am currently a relief pitcher. I was a starter my entire career until I had an elbow surgery and the Yankees brought me back as a reliever.
NWN: Where were you when you got the call up?
Kontos: When I got called up I was in Scranton, PA, which is where our triple-A affiliate is located. It was the last day of the minor league season and I was called into the manager's office and told I was being promoted to the Yankees.
NWN: How does it feel to be on the same team as Mariano Rivera and Derek Jeter?
Kontos: Being able to share the locker room and uniform with guys like Derek Jeter, Mariano Rivera, Jorge Posada, Alex Rodriguez, and all the other great players that we have is an honor. Some of these guys are going to be in the Hall of Fame and it's truly an honor to be able to play beside them now.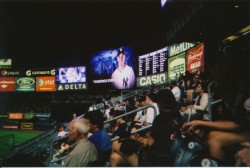 NWN: When you were at Niles West, did you ever dream you would one day be playing major league baseball?
Kontos: I have dreamt about playing in the major leagues since I started watching baseball on TV as a kid. I knew that that was the elite level and wanted to be able to put on a uniform and play under the major league lights.
NWN: What has been the best moment of being on the Yankees so far?
Kontos: I think just the fact that I am truly a Yankee is the greatest thing about it all. As far as picking a single moment, I don't think I can because there are too many. But warming up in the 9th inning next to Mariano Rivera on the day I was called up is definitely one of them…along with my major league debut.
NWN: What is one piece of advice you would give when it comes to reaching your goals?
Kontos: My advice to someone would be never stop dreaming or settle for anything less than your dreams. I always had a vivid picture of what I wanted and where I saw myself and that always drove me to work harder and strive farther.
NWN: If you could travel back in time and talk to a much younger version of yourself, what would you say?
Kontos: I would tell myself to never get discouraged with failure… it's part of the game and part of life. When failure presents itself, you can either learn from it and adjust, or you can get down on yourself and lose confidence.
NWN: If you weren't playing baseball, what other sport(s) would you like to pursue?
Kontos: If I wasn't playing baseball and I had to choose another sport I would have to say golf is where I would head. I played golf at Niles West, and I have continued to play as often as I can ever since.
NWN: Are you being called up for the play-offs or at the end of the year?
Kontos: Right now I'm not sure if I will be on the playoff roster. That all depends on my performance up until the regular season ends. I will definitely do everything I can to give myself the best chance to be on it though.