Nicolas Gaudin: A French Student in America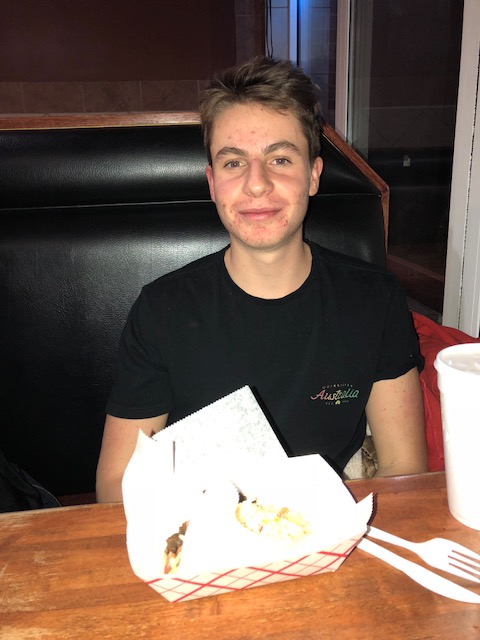 Sitting on the 13 hour plane ride from Paris, France to Chicago, Illinois, Nicolas Gaudin anxiously awaits arriving to America for the first time ever. Gaudin is no stranger to an exchange program, having gone to Denmark and Spain before, but doing an exchange in a different continent would be on another level.
Seventeen-year-old Gaudin has lived in Les Mans, France his whole life. Les Mans is a city located in the north of France and is only one hour away from Paris by train. Gaudin is in his last year of high school and has already been geared towards the field of engineering, which has been his designated course of study since his first year in high school.
After experiencing a full day at West, Gaudin noticed how different the schooling system is in America than it is in France almost immediately. Three days out of the week, Gaudin attends school from 8:00 am to 6:00 pm and sits through 9 periods of 55-minute classes.
"In my school, we have much longer days because we learn the material in class and we practice the material in class. We try to not have as much homework since we get home late at night, but in America, you don't do much in the classes but do so much at home. Also, college is so expensive. That is the opposite in France because it's free," Gaudin said.
Along with noticing the stark differences between the two countries' schooling systems, Gaudin has also found huge differences in his surrounding: everything is huge. From the streets to the buildings, to the portion sizes- everything is bigger than it is in France. Another difference that one of Gaudin's French friends has noticed is the general lifestyle of the average American.
"Americans are huge consumers, Nicolas and I were at one point counting how many Starbucks there were downtown and we lost count,"  French exchange student Emmanuel Robins said.
Spending time in downtown Chicago has been the most enjoyable part of Gaudin's American experience, specifically the field museum. The advanced structure of the buildings in Chicago takes him by surprise each time since there are no cities in France that resemble the city of Chicago.  Eating frequently is also something Gaudin is not used to, but he has most of his unhealthy choices.
"My favorite foods so far have been the donuts from Stans Donuts and the thick Chicago pizza. In France, we don't have pizza like that at all," Gaudin said.
Most of all Gaudin says that the connections he has made with the American students have been the best part of his experience. The people are more chill and welcoming than he expected and he is forever grateful for the everlasting memories he has made with his new American friends. Some Niles West students who have been lucky enough to spend time with Gaudin recall his bright personality and charismatic nature.
"Nicolas is so easy and fun to talk to, as well as hanging out with. I'm 100% gonna miss seeing him around the school and he's not even my exchange student," senior Nina Gillespie said.
Compared to his other experiences as an exchange student, he has thoroughly enjoyed his time in Chicago with his friends that accompanied him on the trip as well as the new students he has met. He will also miss a few things in the U.S. that he wishes were in France.
"If I were to bring anything from America back to France, it would be the water fountains because in school we drink from the sink," Gaudin said.