Uros Tubic: Versatile in the Arts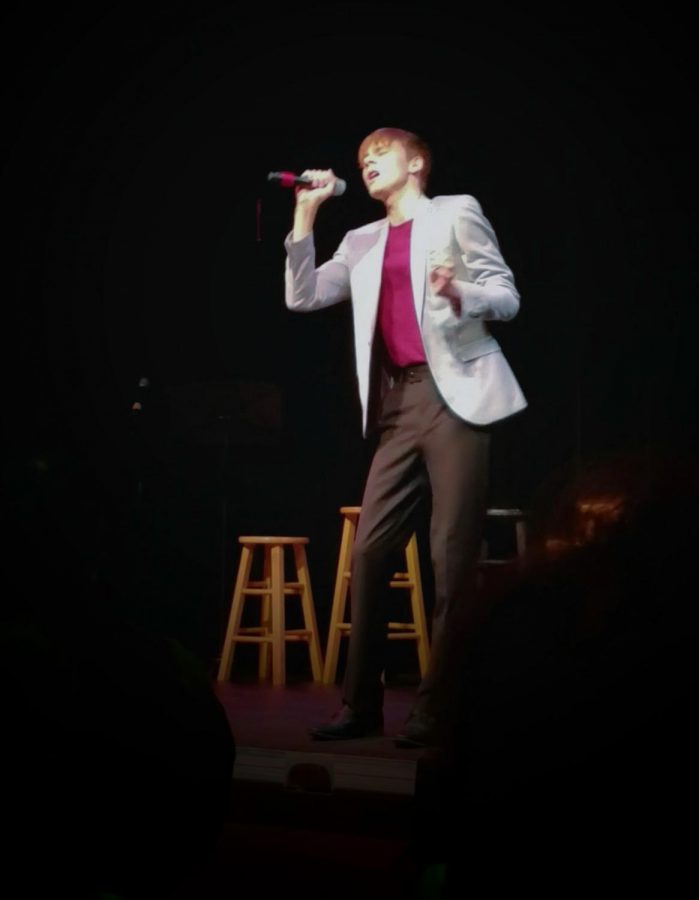 Looking out into the crowd, senior Uros Tubic awaits in darkness, anxious for his performance in front of parents and students alike. Tubic began singing in middle school, but it wasn't until his sophomore year he began showcasing his talents at West. Prior to his entry into the theatre department, Tubic devoted most of his time and energy into the varsity tennis team his freshman and sophomore year.
Sophomore year was the busiest for Tubic, with his involvement in both athletics and preparing for the school play, Rent.
"I would have tennis in the morning at 6:00 A.M., and then I would have rehearsals for Rent until 6:30 P.M. I was at school for about 12 hours each day, on top of having to do school work. Junior year I decided to focus more on theatre and let go of tennis. I wanted to dedicate all my energy to Les Miserable which was a really big deal for me," Tubic said.
Ever since starting theatre at West, Tubic has been in five shows: Les Miserables, Rent, The Diary of Anne Frank, Law and Order: Fairy Tale Unit, and Machinal. Theatre director Andrew Sinclair absolutely adored the way Tubic tackled the role of Mr. Dussel in the Diary of Anne Frank.
"Uros' interpretation of Mr. Dussel in The Diary of Anne Frank is my favorite version of this role I have seen. He was odd, caustic, and truthful. Most importantly, he was able to give this very heavy show some light-hearted moments," Sinclair said.
Tubic has also honed his artistic abilities in studio art and drawing, alongside theatre. He has taken graphic design, Photography 1, Advanced 2D design, AP 2D design, and AP studio art. Tubic admires the open atmosphere of both the design classes and the theatre department. Both are similar in the way that they let his creative side grow, and he is already working on his portfolio in order to study art in college.
"I plan on majoring in Visual communications and design which is a major that includes graphic design and product design. I also want to continue to take a bunch of other art classes in college too. I really want to go to the School of the Art Institute Chicago which is one of the top art and design schools in the country. Although I would love to go to this school, it is extremely expensive, so I am most likely going to go to the University of Illinois Champaign. Their art school is really good and the school is more affordable," Tubic said.
When Tubic is not overwhelmed by his busy schedule, he likes to watch tv shows as well as hanging out with his friends. His friends admire his talent and dedication towards the art, as well as his bright personality.
"Uros is a super dedicated actor and artist. He never misses theatre rehearsals, he is always in art class, and always asking me to come to his performances. He is an actual triple threat and an amazing friend,"  senior Paige Garland said.