Democrats Gain House While GOP Power Remains in Senate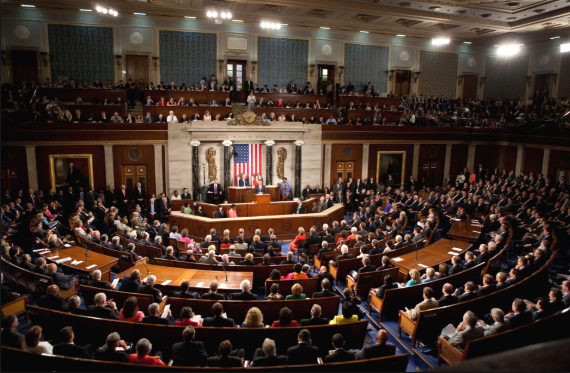 Voters across the U.S. rushed to their nearest polling stations to vote for their choice of candidates for state senators, congressional representatives and governors on Nov. 6. According to NBC, youth voter turnout has surpassed 2014 midterm numbers as more and more young people are getting out to vote.
So far, Democrats have won a majority in the House of Representatives with 219 seats compared to Republicans who have earned 193 seats thus far. With 412 of 435 races called, Democrats have picked up 26 new seats, ultimately surpassing 218 seats in the House to declare majority.
Meanwhile, Republicans have maintained control of the Senate by retaining 51 seats while Democrats lag behind with 45 Senate seats. With 96/100 seats declared, there are still several vulnerable seats for Democrats to declare including Arizona, Florida, Montana and Nevada. Mississippi's Senate seat will be decided by a special runoff election.
History teacher Linda Mulligan was excited to see the voter turnout and predicted the declared outcomes.
"I am curious to see the younger voter turnout in these midterm elections. I predict that Democrats will gain control in the House of Representatives, and I think Republicans will maintain their control in the Senate," Mulligan said prior to the election.
In many Republican-dominated congressional districts, such as the 6th and 14th districts, incumbents Randy Hultgren and Peter Roskam were defeated. Succeeding Hultgren and Roskam will be Democrats Lauren Underwood, a registered nurse and health policy expert, and clean energy entrepreneur Sean Casten.
Meanwhile, Governor Bruce Rauner lost his bid for re-election, with rival JB Pritzker securing 53.8% of statewide votes to Rauner's 39.4% ballot. Accompanying Pritzker to Springfield will be attorney general-elect Kwame Raoul and Suzanna Mendoza, who was elected to a second term as comptroller.
In other races around the United States, Democrats were able to make some key gains. Besides regaining control of the House of Rep., Democrats were able to sweep some battleground gubernatorial elections. Laura Kelley beat Republican Kris Kobach for Kansas Governor, Janet Mills obtained governorship for Maine, Gretchen Whitmer won Michigan, and so on.
Some races, however, are too close to call including the Georgia Governors race between Democrat Stacy Abrams and Republican Brian Kemp. While votes are still being counted, if Abrams is to receive the nomination, she will become Georgia's first African-American governor.
While Republicans have gained power in the Senate, a Democratic House could mean the start of a new era and the undermining of President Donald Trump's agenda. Students and teachers are pleased and believe Democratic House will keep a check on the current administration.
"I guess I'm pleased to see the house has become a democratic majority now only because I think it's important our current president needs to stay in check, more than he has been. Now we will have a bipartisan thing going on with the Senate [Republican] and House [Democratic]. A Democratic house that is a different political party than the president will help balance the president, our current president, and his desires, and some of the things he's under investigation for, which I think is important. So I was pleased about that," English teacher Evelyn Lauer said.
"Democrats have a different perspective of Donald Trump; they are against Trump and obviously are going to stop him from passing his legislation," junior Nohemi Deleon said.
It could also open the possibility for House Minority Leader Nancy Pelosi to be re-elected to the position of Speaker of the House.
According to a
speech Pelosi gave Tuesday
night following the results of the Midterms, a Democratic majority in the house would result in restoring the constitution and stopping the GOP agenda.
"Today is more than about Democrats and Republicans it's about restoring the constitution's check and balances to the Trump administration," Pelosi said in a speech. "It's about stopping the GOP and (Senate Majority Leader) Mitch McConnell's assault on Medicare and Medicaid, the Affordable Care Act, and the health care of 130 million Americans living with pre-existing medical conditions," Pelosi said.
Looking aside partisan lines, the Midterms saw a soaring increase in voter turnout, especially among millennials, and made history for it's plethora or women and minority candidates. Rashida Tlaib (D-MI) will serve as the first female Muslim Congress member and Jared Polis (D-CO) is expected to become the country's first openly gay governor. The Midterms have also set the nations agenda for the next 2 years- a bipartisan congress consisting of a Democratic House and a Republican Senate- to serve as a checks and balance on the current president's administration.