Dance Marathon Raises over $2100 for Curt's Cafe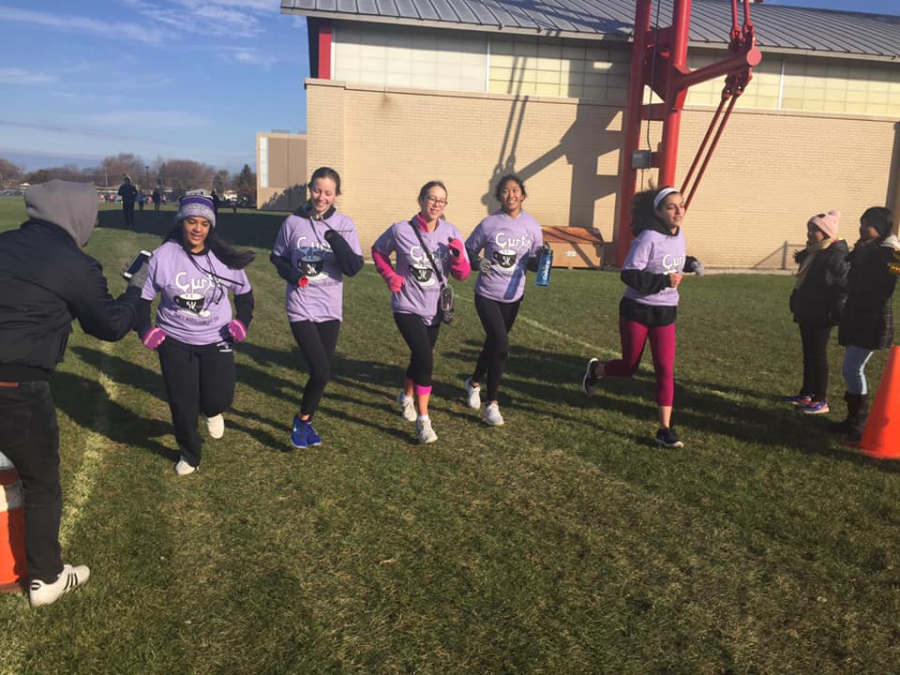 By Lexi Lee, News Editor
November 12, 2018
District 219 students, faculty and community members met up bright and early on Sunday, Nov. 11th to run Dance Marathon's 5K in support of their beneficiaries: Curt's Cafe and the Niles Township Education Foundation. The run took place on the field outside of Niles West.
Curt's Cafe is an organization based in Evanston, IL that helps reintegrate young, disenfranchised members of the community, such as those recently released from incarceration or those in a state of homelessness, who don't have a solid support system. These members are easily susceptible to returning or going to prison for food and shelter purposes, but Curt's Cafe provides training in order to prevent that from occurring.
"It's basically a training program for job skills, general education and mental well-being classes to help them become self-sustaining adults in our community," Dance Marathon's finance executive Jackie Wang said.
The Niles Township Education Foundation assists D219 students in obtaining costly things for their education, such as AP tests and calculators, that would otherwise be unavailable to them.
Participants in the race could either run as individuals or as a team. Among teams represented was cross country, National Honors Society and the Thespian Troupe.
President of the Thespian Troupe Violet Gilbert was excited to participate in the 5K with her fellow thespians despite the cold weather and lack of running experience.
"I got to do something productive with my friends for a good cause, which made it worth being cold for an hour. My favorite part was laughing with my friends throughout the whole run. We are all not very athletic, so it was funny to laugh at ourselves a little bit. It was a very good bonding experience for us, we even got breakfast afterward," Gilbert said.
Dance Marathon executive Alyssa Sarilarp also participated in the race with the National Honors Society and thought it was a better idea to run rather than watch because of the cold weather. The temperature sat at around 30 degrees, not an ideal for most people to stand around in.
"It was pretty cold outside, so it was a better idea for me to run than stand around watching. My favorite part of the run was probably finishing and socializing with everyone. Also, the bagels were pretty good too," Sarilarp said.
The fundraiser was successful in raising over $2100 in total. There was a better turnout than last year which contributed to the success of the event.
"I was very impressed by how many supporters we had show up. It means a lot that people were willing to brave the cold weather to support a great cause. This year we had more runners than last year, and we raised more money too," Dance Marathon sponsor Karissa Moy said.
Wang did not participate in the race, but she enjoyed cheering her fellow peers and community members on.
"It's always fun being a hype man. I love seeing the families and friends and parents who come out to participate. It was also really uplifting to see my NHS friends run. I think it's a really great community event that more people should participate in because it doesn't matter if you run or walk it, you're helping a great charity and getting good exercise," Wang said.