Linda Mulligan: Shaping Our Citizens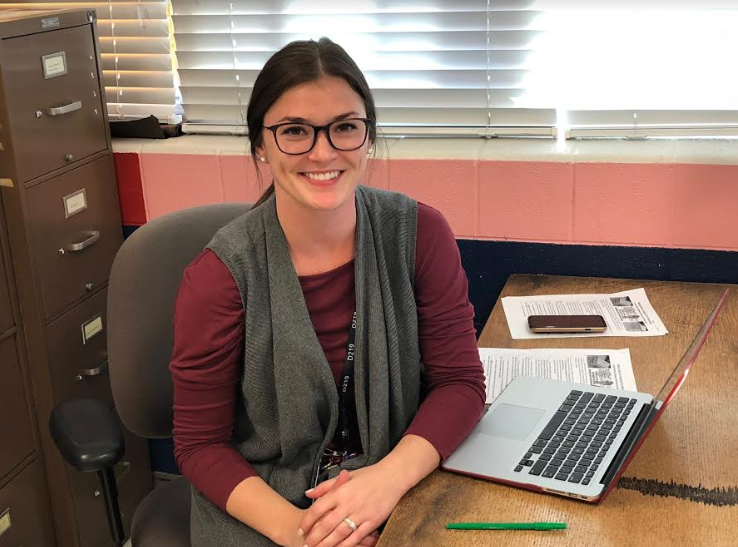 In a modern society where technology and social media have taken over, most students give little thought to what occurs in our nation, let alone the rights they are guaranteed by the Constitution.
Social Studies teacher Linda Mulligan strives to educate students in her Civics class about their civil duties to shape them into well-informed citizens.
"The purpose of civics is to develop a better understanding of your own personal beliefs and values when it comes to government, politics, economics, citizenship and human nature," Mulligan said. "Its purpose is also to develop skills to become a better student, citizen, and person. I want you guys [students] to be more engaged in the world today and get along with diverse groups of people."
Mulligan is a helpful teacher who accommodates for her students and helps them to succeed in the classroom.
"I learned a lot from Mrs.Mulligan's U.S. history class. She's really nice, gives you a lot of time to work on assignments, and she's always there to offer help," senior Avesh Saiyed said.
Mulligan strives to create a comfortable environment for students to share their opinions by providing them with knowledge on both sides of an issue and allowing them to form their own solutions.
"I think by bringing all sides of an issue, students are able to develop their own opinions, and again, with being presented all sides of an issue, students can become informed citizens by coming up with their own beliefs and ideas, and they could learn about where their beliefs stem from," Mulligan said.
Students describe Mulligan as a caring teacher that creates an inclusive environment for differing views and opinions.
"I would describe Mrs. Mulligan as being a caring, and astute teacher. She will always allow contradictions of differing views on the material being taught if one arises. I feel she will always make time for her students and try to give her students, to the best of her abilities, the opportunity to learn and grow as an individual and as a citizen of this great country. She is always caught up on current topics and tries to incorporate those current topics into the curriculum," senior Ethan Kalchik said.
Besides shaping students into well-informed citizens of the future, Mulligan loves working with students and tries to form positive connections with them on a daily basis.
"I always knew I wanted to be a teacher. I like the atmosphere and working with students. This career has allowed me to try to positively impact individuals and so that's not something every job has, so I like being able to make a connection with a student or students and hopefully add a little bit more positivity into what their current life situation is," Mulligan said.