Five Thanksgiving Recipes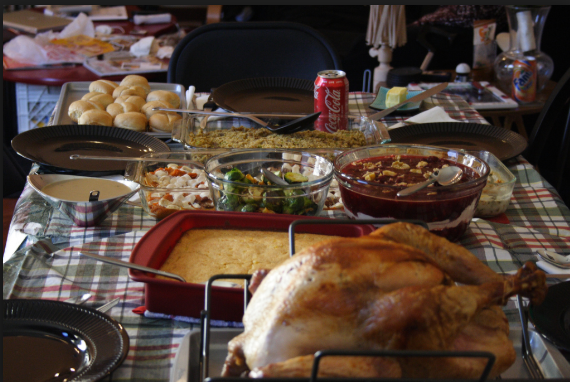 Thanksgiving is all about being thankful for what you have, ironically going all-out on black Friday shopping the following day, and eating a hearty feast. Although the turkey is at the heart of the feast, there are several sides and desserts that complement the traditional meal including mash potatoes and various roasted veggies.
Although I have included some of the classics below, like the turkey and mashed potatoes, let's be honest, having the same thing every year is boring. That's why to spice things up, there is an amazing recipe for peach cobbler below instead of having apple or pumpkin pie yet again.
Thanksgiving Turkey
1 (16-18 lb) turkey
2 tablespoons olive oil
1/2 cup softened unsalted butter
1 tablespoon sage
1/2 tablespoon rosemary
1/2 tablespoon thyme
1/2 tablespoon salt
1/2 tablespoon pepper
1 tablespoon garlic powder
1 tablespoon paprika
1 tablespoon ground mustard
Optional: Onions, carrots, vegetables for stuffing
Remove your thawed turkey from its packaging and remove the neck from its packaging as well as long as the giblets or any plastic from its cavity. Rinse the bird under cold water to clean it and pat dry.
In a bowl, combine all dry ingredients/seasonings. Pour olive oil over your bird and rub the softened stick of butter throughout the turkey, making sure to get your hand inside the cavity and under the skin.
Next, sprinkle the dry rub evenly through the legs, thigh, and breast of the turkey, massaging thoroughly. Place turkey on a roasting pan and let marinade for a day.
Preheat your oven to 325 degrees Fahrenheit. Stuff the cavity of the turkey with onions, garlic cloves, carrots, or any vegetables you have on hand to add flavor. Bake for 2 hours, or until the internal temperature of the thigh is 165 degrees. Baste turkey with drippings from the pan every 30 minutes
Remove the turkey from the oven and allow it to rest for 20 minutes before carving. Carve and serve along with the sides and dessert on Thanksgiving day. For an easy gravy, combine chicken stock and turkey drippings, season with salt and pepper, and thicken with cornstarch.
Garlic Mashed Potatoes
8 Yukon gold potatoes
1/2 stick unsalted butter
1/2 cup heavy cream
1/2 teaspoon salt
1/2 teaspoon pepper
3 garlic cloves, minced
Peel and quarter potatoes, boil for 15 minutes or until potatoes are fork tender. Drain.
Place potatoes in a large mixing bowl along with the remaining ingredients, mash until smooth. Add more cream or milk for a creamier texture and adjust salt and pepper to your liking
Cheese Cornbread
3/4 cup all-purpose flour
2 1/2 teaspoons baking powder
3/4 teaspoon salt
1 tablespoon sugar
1/2 cup cornmeal
1 cup shredded sharp cheddar
1 large egg
3/4 cup milk
2 tablespoons melted butter
Preheat your oven to 375 degrees Fahrenheit and grease a 9 by 9 baking pan.
In a medium mixing bowl, combines dry ingredients (flour, cheese, etc), and whisk. In a separate bowl, whisk wet ingredients. Combine wet ingredients into the dry ingredients using a wooden spoon until evenly mixed.
Pour batter into prepared baking pan and bake for 20 minutes or until golden brown. Brush melted butter over the top and serve
Spiced Apple Cider
8 cups apple cider
3 cinnamon sticks
1/4 teaspoon allspice
1/4 cup maple syrup
5 cloves
1 orange, cut into slices
In a large stockpot, bring apple cider to a simmer. Add spices, syrup, orange slices, and stir. Let the cider simmer for 10-15 minutes so the spices could infuse. Strain and serve in a mug with a cinnamon stick or whipped cream
Peach Cobbler
4 cups sliced peaches (three 15-oz cans of sliced peaches)
3/4 cup granulated sugar
5 tablespoons unsalted butter, melted
1 cup all-purpose flour
1 cup granulated sugar
2 teaspoons baking powder
1/4 teaspoon salt
3/4 cup milk
cinnamon for dusting
cool whip for serving
Preheat your oven to 350 degrees Fahrenheit. In a saucepan over medium heat, cook your peaches and 3/4 cup of sugar until the sugar has dissolved and the peaches have released their juices and slightly thickened. Remove from heat.
In a mixing bowl, combine flour, sugar, baking powder, salt, and milk until well combined (thick consistency)
Pour melted butter over a 9 by 13-inch pan and spread throughout. Pour 3/4 of your batter, leaving little, into your buttered baking pan and spread evenly. Spoon peaches over the bottom of the pan and pour over the remaining batter evenly. Sprinkle the top of the cobbler with cinnamon and bake for 35 minutes or until the crust is golden brown, serve with cool whip
With these recipes at your fingertips, there's no excuse not to have an exciting and tasty Thanksgiving dinner.