West Cooking Classes Prepare Thanksgiving Feast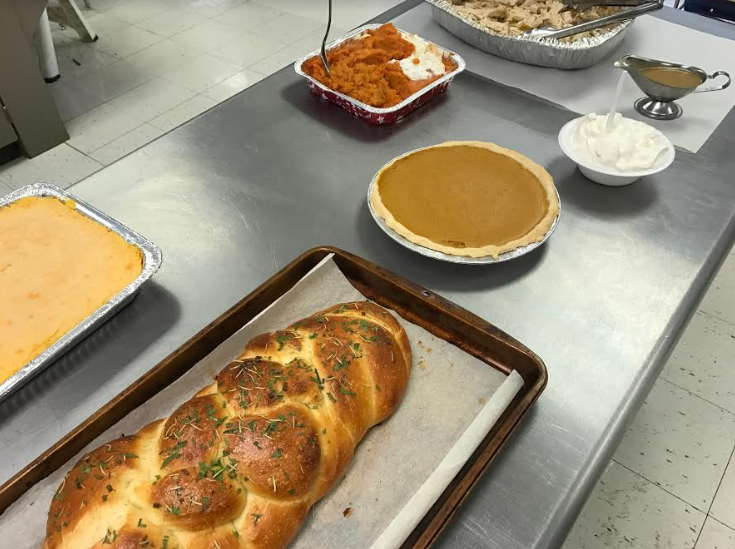 On Friday, November 16, West's chefs, gourmet, and commercial classes prepared a Thanksgiving feast.
According to culinary arts instructor Maria Kelly, the annual feast is an opportunity for students to experience a classic American Thanksgiving feast while preparing the sides and desserts of their choice.
"We do the Thanksgiving feast every year for all our classes to experience a classic American Thanksgiving feast, which includes your classic turkey roasted in the oven with the sides like mashed potatoes, sweet potatoes, and you pick a vegetable. We also talk to the kids about what kind of dessert they want. They have a choice of pumpkin pie, apple pie, [or] pumpkin bars," Kelly said.
Students were divided into groups and each assigned a dish to prepare.
"Each group had to make their own different dish that our teacher assigned," senior Husayn Dashtee said. "Our group made green beans. It was really difficult."
After preparing each of their select sides the previous day, while culinary instructors roasted the turkey and set the table, students enjoyed their feast on Friday, November 16.
Students also took the time to create hand turkeys and present what they were thankful for, all while spending quality time over a feast they prepared together.
"My favorite part is probably going to be eating with our class and the other class too, just spending time with each other and getting to know each other," senior Nick Chelboun said.
"I really like how we all come together and how we'all just eating together and bonding with one another which we really don't see anywhere else during the school day," Dashtee said.
Aside from enjoying a delicious feast they put together, the lab was a great opportunity for students to review new and old cooking skills.
"They learn everything from the beginning of the semester and a couple of new skills are added in, like measuring and knife skills. Those are all repeats. Then, they watch us clean a turkey, stuff a turkey, how we baste it and so on," Kelly said.
Julia Matuszek contributed to this story.