Chicago Bears Bear Down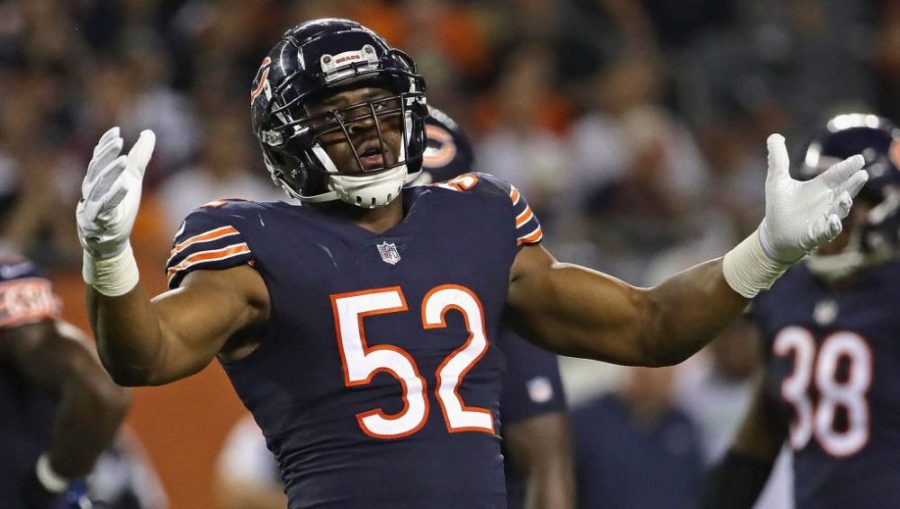 For the first time in many years, the Chicago Bears are in first place in the NFC North Division and have a current record of 8-3. The Bears started their season with a loss against their rival Green Bay Packers but ever since then, have been absolutely dominating and losing only two games. The solid offense and a stellar defense have been a great recipe for winning and they show no signs of slowing down.
The biggest improvement coming to the Bears this season has definitely been the defense and the addition of linebacker, Khalil Mack. Mack has been outstanding and although he suffered from a minor injury, his impact on the team and their record have been outstanding.
"Long story short, the Bears have had a real come up for the first time in years, and they haven't had this much energy in a long time. Their defense has been big and the new edition Khalil Mack is a tank and has been unstoppable," senior Shayn Szlak said.
The hard-work the Bears are putting in this season does not go unrecognized by fans.
"For once in a long time, the bears are actually looking really good this year. Mitch Trubsky has been awesome leading the offense and Khalil Mack has been an absolute beast on the defensive side," junior Adem Memidzan
The Bears currently lead their division by a game and half ahead of the Minnesota Vikings, and if they are able to win the division, it will be the first time since 2010. Many people are confident that the Bears can pull it off this year; however, even if they don't win it all, it will still be the start for a great upcoming football team.
"The Bears are playing very well this season. Defense is making big plays keeping them in games, and the whole team has shown it can compete and win even without our starting quarterback," junior Lili Youkhana said. "I'm more than confident that the Bears will make the playoffs this year and actually have a pretty good shot at bringing home a championship," Memidzan said.
The next game for the Bears will be this Sunday, Dec. 2, against the New York Giants.