Students Honored at You Make a Difference Breakfast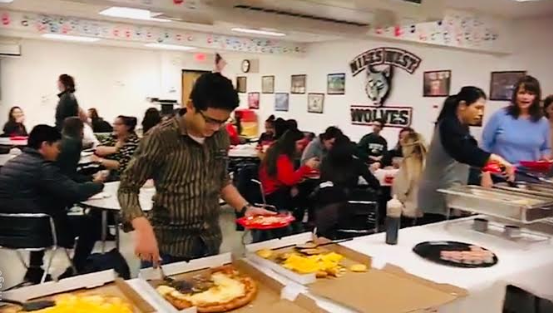 On the morning of Thursday, Dec. 13th teachers recognized 53 students who they believe made a positive difference in their life. The breakfast provides an opportunity for these nominees to be recognized for their achievements.
"The purpose of the You Make a Difference Breakfast was to acknowledge students for their achievements and what they have done in this school community, they made a difference in another students life, in a teacher's life, you know, they've done something  that should be acknowledged so that's why we have the breakfast," executive secretary Judy Wheatman said.
Teachers were given the opportunity to nominate a student through a google form sent out by Wheatman in November. As part of the breakfast, teachers and their nominees were able to help themselves to a hearty breakfast, which consisted of bacon, breakfast pizza and pancakes.
"Everyone helps themselves to the breakfast. Dr. Ness has a little speech beforehand and then the teacher who nominates the student stands up and brings the student, and gives a talk about how the student has made a difference," Wheatman said.
The You Make a Difference Breakfast also allowed teachers to recognize more than one student in their select area.
"There are a whole bunch of different awards given out to students recognizing only one or a couple of students in an area, in this case I was able to recognize 12 students that helped out with the classroom," special education teacher Shaun Kennedy said. "I nominated Gaby because she told me she wanted to be a special ed teacher, she was serious about what she wanted to do. She's very passionate and does a wonderful job."
Senior Gaby Goldman was humbled to be recognized for her work with children in the pathway program.
"It was very humbling because it's not every day you get recognized for what you have done," Goldman said. "When I'm having a bad day, the stress goes away when I enter the pathways classroom. It's all about the kids"
This year's nominees were Adam Yousef, Adrian Arroyo, Alvin Guitierrez, Alyssa Pagan, Amela Duskic, Ashley Dyer, Austin Kessem, Cameron Gordon, Cameron Mason, Carmin Raciti, Chasity Taylor, Crystalin Chau, Denice Gahum, Desiree Roman, Dharma Delahanty, Divya Patel, Dongming Liu, Gaby Goldman, Grace Hyman, Hamna Zaidi, Hector Gutierrez, Hope Barkov, Irene Metaxas, Janay Moncrief, Jannette Gonzalez, Kadin Camburn, Katerina Paulos, Kayla Lawrence, Kelsey Wilinson, Kylie Ramirez, Lanecse Johnson-Jones, Lida Mansour, Lili Youkhana, Lizzie Bechtle, Emma Halley, Mady Hester, Maja Mitrovic, Marco Antunez, Mateo Rodriguez, Mateo Young, Michelle Choy, Muhammad Shahzad, Nicole Koziol, Nohemi DeLeon Madina, Razan Suleiman, Rohan Pinjani, Saad Chadrawala, Sammie Simkins, Shalanda Boozer, Stephanie Morales, Taline Karagozian, Tina Sajic, Zion Pena.