Civics Classes Pack Food at Feed My Starving Children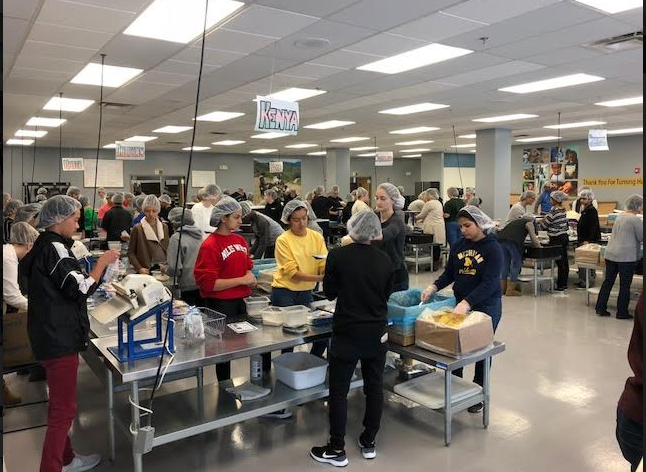 Numerous Civics classes at Niles West volunteered at Feed My Starving Children in Libertyville, IL on Tuesday, November 27, a Christian non-profit organization that provides nutritious meals for malnourished children around the world.
Students packed nutritional meals for distribution to countries in need.
"As volunteers, students hand-packed scientifically formulated meals for undernourished children that are then distributed to a network of 80+ partners in 60+ countries, " social studies teacher Linda Mulligan said. "In total, students packed 183 boxes, which provides 39,528 meals [and] feed 108 kids for a year."
As part of the packing process, students formed assembly lines to engage in numerous tasks, such as addressing envelopes or carrying supplies.
"Students worked in teams in a sort of assembly line.  Some of them measured ingredients, some labeled bags, while others helped seal the bags and worked in the warehouse," Director of Social Studies Sanlida Cheng said.
The main purpose of the field trip of the was learning to be an educated American citizen and fulfilling the civic duty to help others, one of the core values of the Civics curriculum.
"I think this is year 3 or 4 of Niles West students participating in their Civics classes," Cheng said.  "There is a civic engagement/action component to the class, and Civics students can elect to do some sort of action on their own, or they can do it with their classmates."
Although packing meals for hours end may seem redundant, students were able to make the best of their experience helping humanity while having fun.
"My team was packing food for Uganda. I had fun because my friend was [packing food for] Peru, so we kind of got into a competition to see who [could] pack the most boxes before time ran out," sophomore Mimi Lozic said.