SADD Club Presents Stress Less Week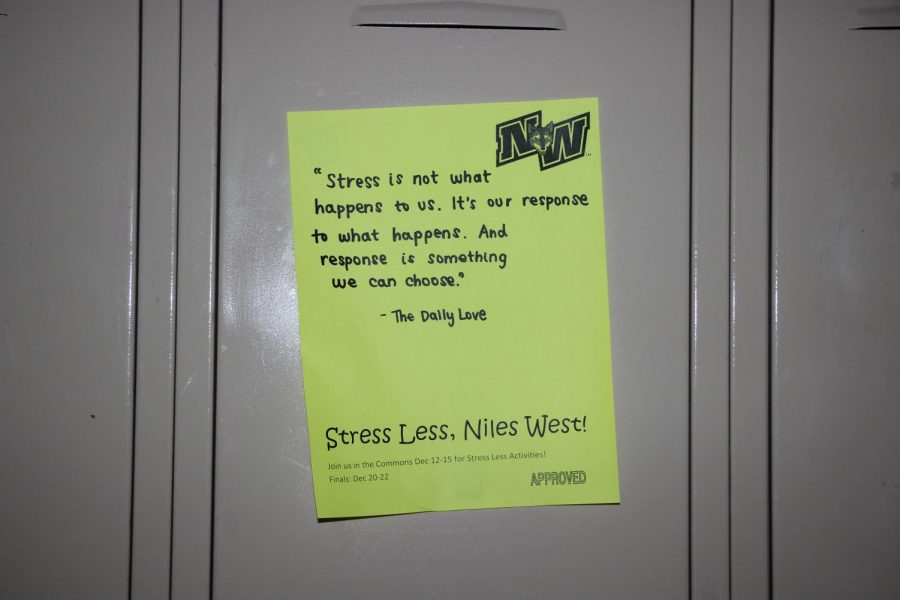 This year's Stress Less Week will begin Monday, December 10 and continue to Friday, December 14, as Niles West continues its tradition of caring for stressed students as finals week quickly approaches.
The week is organized by SADD Club in response to the prominent issue of stress among students. The club plans activities in the student commons in order to provide a healthy alternative to stress during finals season. The commons hosted a bags tournament on Monday, followed by classic arts & crafts on Tuesday, and Ping Pong on Wednesday. The stress-free week finishes with Ping Pong available for students on both Thursday and Friday, while on Thursday students have the opportunity to build DIY stress balls.
"SADD Club developed this stress-less program to promote activities that allow our brains to take a break and refocus. [Our] hope is that NW students participate in the brain break activities this week and learn to navigate future stressful situations in a healthy way," sponsor Jessica Madigan-Verceles said.
During any free period, students are able to take advantage of these activities in the Student Commons. As the final stretch of the semester approaches, it's important to manage stress in a healthy and productive way.
"Stress less week is very helpful for people who spend most of the last week of the semester worrying about finals. It lets us get our minds off of those high-stakes tests and enjoy ourselves at school before being gone for two weeks," senior Dylan Chikko said.
Junior Agata Soltys is also appreciative of the opportunities that stress-less week offers.
"Although I don't have a lunch period, stress less week is going to be very fun for the students that have one. Finals week brings a lot of stress for students, and I think that these activities will relieve some of that unnecessary anxiety," Soltys said.