Andrew Pabst: Triple Threat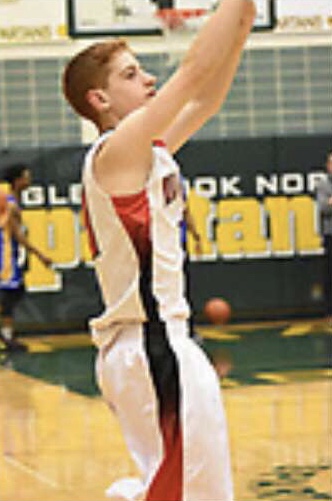 Dribbling up the court, giving his coach one final glance, he shoots his shot — nothing but net. If there was one sentence to describe how junior Andrew Pabst lives his life, it would be exactly that. Whether he's teeing off on the first hole for a round of golf, stepping into the batter's box at a baseball game, picking up a basketball for his upcoming game, or tackling his books getting ready for finals, Pabst lives his life full of sports to the fullest at all times.
His friends always knew from the start that he would make an impact in every sport he played but also in the classroom.
"I think Andrew has always been superior as an athlete. From a young age, he was always the best at running, jumping, catching, etc. Even though he has always been number one, his competitive nature drives him to become even better," junior Michael Daratzis said. "This also translates into the classroom, where he's determined to learn new information and ask questions where things get hard. With his personal drive and work ethic, I expect Andrew to continue getting better and better in both school and athletics."
Pabst acknowledges that high school is the only time in which he can participate in such a wide variety of activities.
"It requires a lot of work and good time management, but it's fun because I know it's the only time in my life for opportunities like this," Pabst said.
One of Pabst's biggest influences is his older brother, who has challenged him from the start to be his best at everything.
"I think I have an influence on my brother's athletic career because it's something we both love to do. Growing up we would always be playing baseball, basketball, football, and really anything we can get our hands on. I can't take any credit for him though, he has worked tremendously hard for his own accomplishments and achievements, and he earned them himself," brother and alum Johnny Pabst said. "It really is cool to be a big influence on my brother, and it always helped me become a better sibling. Being the oldest, I knew both of my siblings were looking up to me and I wanted to be a good example to them."
Sports have always been the biggest role in Pabst's life and they will continue to do that until he is ready to stop.
"Sports have played a huge role in my life. For as long as I can remember I've been playing with friends, family, or just practicing on my own. They are fun to me, bring me closer to friends, and I couldn't live without them," Andrew said. "I think sports can take me as far as I want them to. I'm not sure what I want to post high school, but it'd definitely be cool to get an opportunity like that."
Basketball has by far been the most important to Pabst life. He has played for just as long as he could walk and his older siblings who have also played basketball have always given him a boost in his athletic ability.
"Basketball has taught me about hard work and given me the opportunity to meet people I will remember and know throughout the rest of my life," Andrew said.
Johnny will be there supporting Andrew throughout the way.
"I don't know what Andrew wants to do after high school and I try not to talk to him about college in general. High school flies by and I tell him to just enjoy playing with his friends. Athletic careers come to an end for everyone, and I just hope he has as much fun as he can. We're two different people and I don't want him to base any decisions on something I have done. Whatever he chooses to do after high school, he knows he will have my full support," Johnny said.