Hot Chocolate Fridays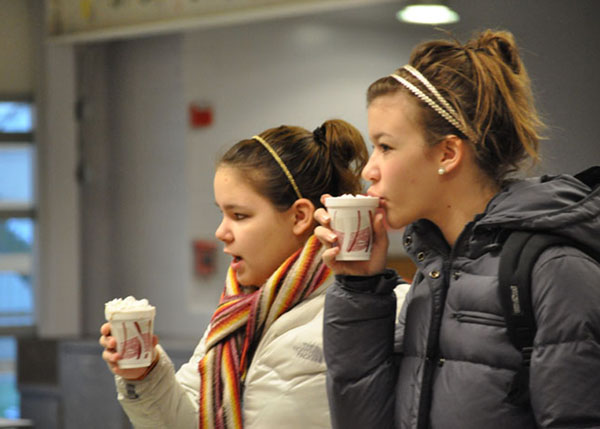 With the winter season approaching, a warm cup of hot chocolate can warm up freezing fingers and faces before school. This, along with a new way of meeting administration has brought way to the creation of Hot Chocolate Fridays. A school-sponsored event in which administrators and students alike bond over one thing they all love: free hot chocolate, early in the morning.
Secretary for Principal Dr. Jason Ness Judy Wheatman holds the vision that this tradition has really evolved into a way where students, teachers or administration can meet each other, in a non-classroom based setting, and get to know the actual person that sits, teaches or organizes in the school, not just the character that students see every day and get to know only about their subject they teach.
"It [Hot Chocolate Fridays] started before Dr. Ness arrived, and it has always been a way of connecting students with the adults with some nice, warm, hot chocolate: kicking off the season right," Wheatman said.
That same idea is seen in the students, with sophomores Jenna Micor and Magdalena Soldo having similar ideas.
"It's nice, seeing and talking to teachers outside of the classroom, and of course having some hot chocolate along with it. It makes the month of December more enjoyable, even when school may be a little stressful," Micor said.
"It is nice to get hot chocolate and talk to the teachers, and it is just cool to see everyone together, all with their hot chocolate," Soldo said.
December 14 will be hot chocolate with the deans and security and Dec 21 will be with the counselors and student services.