Winter Whiteout for Pep Assembly Friday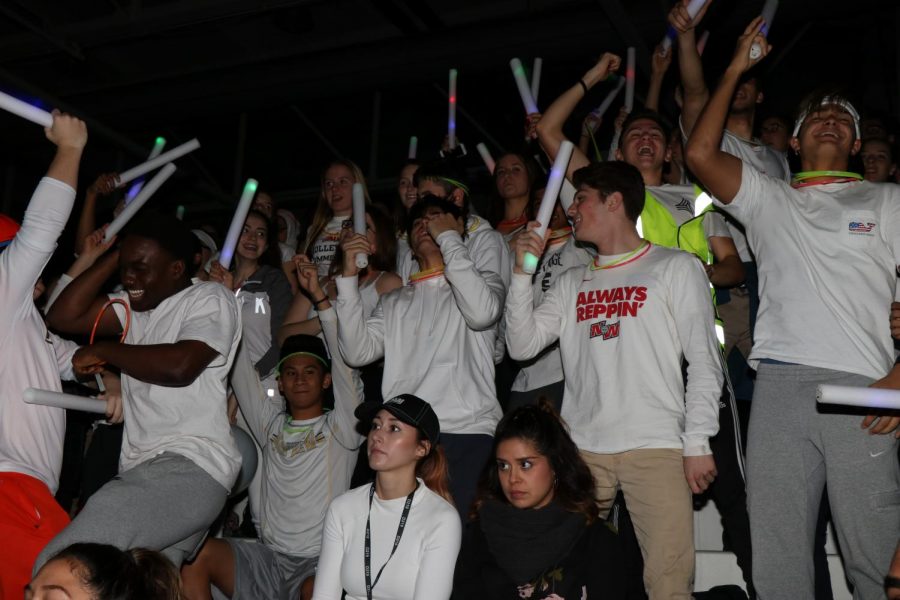 With finals coming up, students and staff of Niles West are stressing to the max. What's a better stress reliever than a winter pep assembly? Students will finish all nine periods by 2:15, and go straight to the contest gym. Seniors and juniors will stay on the floor bleachers while sophomores and freshmen sit on the balcony bleachers. The assembly will end a few minutes before 3:23 to ensure that students have time to get to the buses.
Student activities director Katie Odell is ecstatic about the upcoming assembly due to the new theme. It's still going to be the annual glow in the dark, but the attire for the entire student body is going to be a whiteout.
"The theme is a winter wonderland whiteout. So it's still going to be a glow assembly, however, we're going to be turning the entire contest gym into a winter wonderland. We want to do a whiteout because there's going to be a huge glow and the white goes along with the winter theme. I've always wanted to turn the gym into a snow globe so I'm so excited to see how it turns out," Odell said.
Performing in the assembly will be the winter sports teams, Color Guard, Cheerleading, Poms, Orchesis. Fall athletic awards will also be recognized.
Junior Patrick Eslick is looking forward to the assembly. The whole theme and the atmosphere that's going to be throughout the school day is something he's looking forward to.
"I'm very excited to see all our students and staff participate not only in the assembly but in the stands," Eslick said. "I think the assembly being this Friday is a good idea since a lot of kids are stressed about finals, tests, and homework. the shortened day is a nice way to take a break and have some fun right before finals."
Many students are feeling pretty positive about the whole whiteout theme. Junior Jacey Trufin always looks forward to pep assemblies and can't wait to stand with her grade on Friday supporting the winter sports.
"I absolutely love the winter wonderland whiteout theme. It sounds so fun and I just feel like there are going to be such good vibes all around. It's just a great way to end the week and have some fun with your grade and the rest of the school," Trufin said. "I also enjoy watching the performances, especially winter sports. I have many friends on the teams and I look forward to supporting them from the bottom of my heart."